SCORE MEDIA CONTACT: Dominic Clark, dominiccnv@aol.com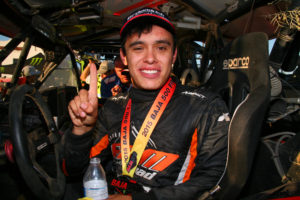 RENO, Nev.—Following the third of five races in the 2015 SCORE World Desert Championship, 19 of SCORE's toughest drivers remain in the hunt to earn 2015 SCORE Milestone Awards. Last month's 47th Bud Light SCORE Baja 500 was run on a rugged 510.58-mile course in Baja California Norte, Mexico on June 6-7 that started and finished in Ensenada.
Leading the way in the chase for 2015 SCORE Milestone Awards are six superlative stallions in the featured SCORE Trophy Truck division, two each in Class 10 and in Class 19, one in Class 1 for unlimited open-wheel desert race cars and two in Class 40 (motorcycle riders over 40 years old).
The six SCORE Trophy Truck thoroughbreds who have completed every race mile so far this season are: Carlos Lopez, Tecate, Mexico (No. 5 Chevy Rally Truck), Gus Vildosola Jr, Mexicali, Mexico (No. 21 Ford Raptor), Rob MacCachren, Las Vegas (No. 11 Ford F-150), Eduardo Laguna, Mexicali, Mexico (No. 17 Chevy Silverado), Steven Eugenio, Carlsbad, Calif. (No. 1 Chevy Silverado) and Gary Magness, Desert Hot Springs, Calif. (No. 45 Ford F-150). SCORE Trophy Truck is the sport's marquee racing division for high-tech, 850 horsepower unlimited production trucks.
Round 4 of the internationally-televised 2015 SCORE World Desert Championship will be the third annual Rigid Industries SCORE Imperial Valley 250 presented by the City of El Centro, to be held Sept. 24-27 at the Coyne Powersports Motorplex in Plaster City, Calif., just west of El Centro and East of San Diego.
SCORE is presenting these prestigious awards to the world's toughest desert racers for the 30th consecutive year. The SCORE Milestone awards will go to the car, truck, UTV drivers and motorcycle, quad riders who finish every required mile in the 2015 SCORE World Desert Championship.
"SCORE is privileged to honor the world's best desert racing drivers," said Roger Norman, SCORE CEO/President. "For three decades, SCORE has been very pleased to present the SCORE Milestone Awards to the toughest, most rugged racers on the planet."
For more information, visit www.score-international.com.
2015 SCORE Milestone Awards
(19 car, truck, UTV and M/C racers who completed every required mile after three rounds of the five-race 2015 SCORE World Desert Championship)
SCORE Trophy Truck
Carlos Lopez
Gus Vildosola Jr
Rob MacCachren
Eduardo Laguna
Steven Eugenio
Gary Magness
Class 1
Rob Archibald
Class 1/2-1600
Aaron Ampudia
Class 5
Victor Cesena
Class 5-1600
Armando Garcia
Class 10
Cody Reid
Clay Lawrence
Trophy Truck Spec
Larry Connor
Class 19
Derek Murray
Scott McFarland
CLASS 3000
Chad Broughton
CLASS 40
Kyle Abney
Colie Potter
SCORE IRONMAN