". . . Race in Peace"
They say to be a Champion, one must have the Heart of a Champion.
Obviously, Andy McMillin is a Champion, 5 BAJA 1000 championships attest to this fact. McMillin, then, must have the Heart of a Champion.
For some insight into where Andy's heart came from and how it beats, check out this salute to his grandfather – Corky McMillin. on January 14, 2016, Corky's 87th birthday. It is reposted below with permission from Andy from Andy's Facebook Page.
Corky McMillin died at the age of 76 in 2005 less than two weeks after he had a heart attack while racing in his final desert race, the SCORE Las Vegas Primm 300. He has eight grand children. Jessica, Charlotte, Andrew, Daniel, Stephanie, Macy, Cody and Luke. Corky was posthumously inducted into the Off-Road Motorsports Hall of Fame in 2006.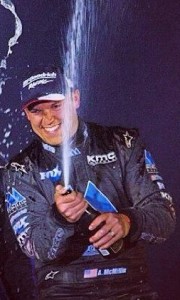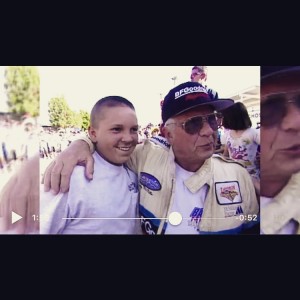 A little throwback – Back when my diet consisted of cupcakes and pizza…
My grandpa being interviewed at the finish line of the SF250, and he pulled me over in front of the camera and said "this is my grandson, he wants to drive race cars one day".
In all seriousness, today would have been my Grandpa Corky's 87th Birthday. There are many times I find myself wanting to talk to him; ask him for advice, ask him about his past and growing up, ask him about his time representing our country in the Armed Forces.
He passed away when I was 18 years old. I was too dumb then to know how valuable it was to have a role model like him that I could talk to (my mom's dad passed away when she was only 14 so I never had to chance to meet him). I never got the chance to ask him about the important things in life, the things that really matter: honesty, integrity, family, business, reputation, how to be a good person. I regret not pulling out as much information as I possibly could from him when I had the time, had the chance.
Even yet, I learned so much from him by watching him communicate with people, watching him work on his race cars, or my dad's motorhome when he had a problem. My dad says "oh, well I need to call AAA." Corky says "we don't need them. Grab the toolbox and let's figure out what the problem is and how we can fix it."
He threw himself out there and tried things he knew he would fail at, but he was always wanting to learn.
Love those around you. Ask the tough questions. Be present. You never know when things will change.
We all miss you Corky, and I hope you're smiling down on us from above, proud of the accomplishments we have made all because you gave us the opportunity and chance to. Race In Peace.
AMEN. . . Visit Andy McMillin's Facebook Page Here