Tijuana SCORE Desert Challenge 2017
ACCIONA 100% ECOPOWERED TO COMPETE
IN MEXICO FOR THE FIRST TIME
The first and only all-electric vehicle to complete the Dakar Rally, the toughest rally in the world, ACCIONA 100% EcoPowered has set it sights on the Tijuana SCORE Desert Challenge, in Mexico.
The car will be crewed once again by Andrea Peterhansel and Emma Clair as it crosses the Tijuana desert on 22, 23 and 24 September
11 September 2017- ACCIONA, a leading supplier of sustainable infrastructure solutions and renewable energy projects worldwide, is to race its zero-emissions the car, the ACCIONA 100% EcoPowered, in Mexico for the first time.
As the first zero-emissions vehicle to complete the Dakar Rally, and having completed other qualifiers for the FIA World Rallycross Championship, such as the Italian Baja rally and the Morocco Rally, ACCIONA 100% EcoPowered now faces the Tijuana SCORE Desert Challenge, an event in the SCORE World Desert Championship, which is to be held on 22-24 September.
The female drivers that classified in 11th place in the Italian Baja, Andrea Peterhansel and Emma Clair, will be at the wheel once again. Peterhansel has participated in over 60 rallies, including 10 times in the Dakar Rally, while Clair is Bajas TT world champion in quad. They are supported by technical and sporting director, Ariel Jatón, who made rally history by putting ACCIONA on the Dakar podium.
ACCIONA 100% Ecopowered's participation in the SCORE Tijuana Desert Challenge evidences ACCIONA's continuing focus on demonstrating the potential of renewable energy and on lending visibility to the fight against climate change, which was ratified in the Paris Agreement.
Mexico is a strategic country for ACCIONA, which has been operating there since 1978 through its main divisions: Infrastructure, Energy and Water. Major projects that ACCIONA has executed in Mexico include the Atotonilco wastewater treatment plant, which processes half of the sewage produced by Mexico City's 8 million inhabitants, and the Reynosa 424 MW wind farm, Mexico's largest, which is capable of meeting the energy needs of close to one million people.
ACCIONA announced its return to competing at 'Dialogues for the Future of Energy 2017 (DEMEX)', which was held in Santa Fe (Mexico City). This event was created 13 years ago to promote the development of renewable energy worldwide via high-level conferences.
A technology milestone
ACCIONA 100% EcoPowered is the outcome of over five years of research and development work spearheaded by ACCIONA's R&D and Innovation Department. Built entirely in Spain, it is the most powerful electric car in the world, with a 250 kW synchronous electric motor, equivalent to 340 horsepower. The car is powered by eight ultra-fast charging lithium battery modules (60 minutes) plus a 100 W solar panel.
Unlike the other participants in the rally, which burn an average of 25 litres per 100 km, ACCIONA 100% EcoPowered is driven exclusively by clean energy and does not use a drop of fossil fuel.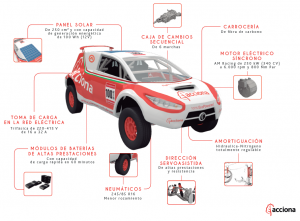 ACCIONA is a leading supplier of sustainable infrastructure solutions and renewable energy projects worldwide. Its range of services covers the entire design, construction, operation and maintenance value chain. The company posted turnover of 5,977 million euros in 2016; it has a presence in more than 40 countries and carries out its activities within a commitment to contribute to the economic and social development of the communities where it operates. ACCIONA's aim is to lead the transition to a low-carbon economy, by applying criteria of quality and innovation processes to all its projects with a view to achieving efficient use of resources and caring for the environment. www.acciona.com