BAJA 1000 STORY in SJ1: SINCE IT IS THE WEEK OF THE 48th BUD LIGHT SCORE BAJA 1000, SCORE-INTERNATIONAL.COM IS CELEBRATING (AND KEEPING OURSELVES AS PREOCCUPIED AS POSSIBLE BECAUSE THE ANTICIPATION IS QUITE HONESTLY BEGINNING TO OVERCOME US ALL) BY LOOKING BACK AT PREVIOUS BAJA 1000's. FIRST STOP – LAST YEAR, 2014. BE SURE TO CLICK HERE TO CHECK OUT THE STORY IN THE VERY FIRST ISSUE OF SCORE JOURNAL (BACK WHEN IT HAD LESS THAN A MILLION MONTHLY READERS).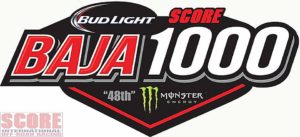 A LOOK BACK at 2014 BAJA 1000:
MacCachren/A. McMillin/Voss 'Rockstars' earns Overall, SCORE Trophy Truck win at 47th Tecate SCORE Baja 1000
Originally Published on: November 15, 2014
Televised on CBS Sports Network
Brabec's team on Kawasaki breaks Honda's 17-year win streak for overall motorcycle crown;
Davis claims Class 1, Robles Jr team grabs overall ATV victory; Septien tops SCORE Ironman m/c
M. Johnson, Arredondo, Septien, Connor, Ruvalcaba, Moss, Pete Sohern, earn class wins;
1,275-mile odyssey down Mexico's Baja California peninsula from Ensenada to La Paz;
celebrates SCORE;s 41st year as the world's foremost desert racing organization
     ENSENADA, Mexico—Running their game plan to perfection, a desert racing 'dream team' of Las Vegas' Rob MacCachren, San Diego's Andy McMillin and Jason Voss, of Gilroy, Calif. rolled like Rockstars, overcoming a brutally-rugged 1,275-mile course and over 200 challenge, driving to the overall and SCORE Trophy Truck victory Friday at the 47th annual Tecate SCORE Baja 1000.
When the results became official after review of the data loggers in each finishing vehicle by SCORE officials, the MacCachren/McMillin/Voss trio had rocketed to a memorable race down Mexico's Baja California peninsula. The talented trio finished the mentally-draining, physically grueling race from Ensenada to La Paz in 22 hours, 31 minutes and 27 seconds while averaging an impressive 56.64 miles per hour in the No. 11 Rockstar Energy MacCachren Motorsports Ford F-150.
The sport's newest dream team blew by a field of 237 starters in cars, trucks, motorcycles and ATVs for a victory margin of nearly 29 minutes. The starting grid included 31 starters in the marquee SCORE Trophy Truck division for high-tech, 850-horsepower unlimited production trucks.
With the rugged course traveling on both sides of the peninsula, the world's most famous desert race was a peninsula run, starting in Ensenada, Baja California Norte and finishing in La Paz, Baja California Sur. With 10 checkpoints along the way, it was the longest course in race history for the race in the 21 years it started in Ensenada and finished in La Paz.
OVERALL PODIUM
Finishing second overall and second in SCORE Trophy Truck to the desert dream team was the third-generation desert racing brother duo of Luke McMillin, El Cajon, Calif. and Dan McMillin, La Mesa, Calif. with a time of 23:00:08 (55.56mph) in their new No. 83 Mark Racing Ford F-150.
Completing the SCORE Trophy Truck podium and finishing third overall was the team of Cameron Steele, San Clemente, Calif./Pat Dean, Las Vegas, who covered the distance in 23:41:18 at an average speed of 54.29mph in the No. 16 Monster Energy Desert Assassins Chevy Silverado. A veteran racer, who has raced and won his class in several classes, it was Steele's first podium finish in SCORE Trophy Truck.
KAWASAKI MOTORCYCLE MAGIC
In the motorcycle competition, the storyline was the same as it has been for a decade and a half, who will beat Honda. A different ending was revealed this year.
After a close battle nearly the entire length of the peninsula, emerging with the overall motorcycle victory was the THR Motorsports team of Ricky Brabec, Oak Hills, Calif./Robby Bell, Glendora, Calif./Steve Hengeveld, Flagstaff, Ariz./Max Eddy Jr, Barstow, Calif. Bell and Hengeveld are both veteran champion SCORE Baja racers riding previously for Honda.
The Brabec team rode the No. 4x Kawasaki KX450F  to dethrone Honda for the preeminent position in SCORE Baja motorcycle racing, finishing in a time of 24:24:01 with an average speed of 52.36mph.
The Honda No. 1x team this year was Colton Udall, Oceanside, Calif./Mark Samuels, Yucca Valley, Calif./Ian Young, San Clemente, Calif., nearly 27 minutes behind the winners in a time of 25:0:59 at an average speed of 51.67mph) on their No. 1x Honda CRF450X.
Colton and Samuels were part of the championship teams of the last two years. This year, Udall/Samuels were joined by Udall's brother Young.
Winning its 10th overall title in the SCORE Baja 1000 and first since 1996, Kawasaki broke the lengthy streak by Honda who leads with 24 overall victories in the race including 17 straight years of race championship teams until this year.
For the THR Motorsports team, this was Brabec and Eddy Jr's first overall win in this race, the third for Bell and eighth overall win and 11th class win in the SCORE Baja 1000 for the veteran Hengeveld.
Team two teams entered the race in a tie for season points with two race wins each.
In their winning march to the race triumph, Kawasaki's Bell started the race, rode twice, Brabec rode three sections, Eddy drove one and Hengeveld rode the night section from approximately race mile 965 in Loreto to the finish, nearly 310 miles.
Brabec said at the finish line, "We finally ended Honda's streak and it feels good. It didn't come easy because we were behind all day. We had problems all day long with tires and lights. Max Eddy had a wheel blow out on him at about race mile 680 and later had to change a tire out there. When I got on the bike the lights went out so I had to pull the radio out of my bag and get a hold of my chase crew. I got the new set of lights it all started coming together. Honda can be beat and we did it today."
CHAMPIONSHIP RUN
Planned to precise detail, MacCachren started the race and drove to race mile 472 where A. McMillin took over for the next 450 miles to race mile 922. Voss took the wheel of the No. 11 Ford F-150 from there to the finish line, a total of 353 race miles.  It was the seventh class win and second overall for MacCachren, the fourth overall and fourth class win for A. McMillin, and first for Voss who has won two domestic desert races this year and was second in June's 46th Tecate SCORE Baja 500.
The win also moved MacCachren into the all-time career leader SCORE Trophy Truck race wins with 12 while McMillin picked up his seventh career SCORE Trophy Truck race win and and Voss his first.
MacCachren, whose last win in this race was in the 2007 with Mark Post in the 40th anniversary race of this great international race, commented afterwards, "Andy and I drove last year's Tecate SCORE Baja 1000 together and we really wanted to win that race but some things didn't quite go our way so I wanted Andy to come back and run with me again this year. I had a conflict earlier in the season so I had Andy drive my truck and he won which got us in the points lead. Andy and I were going to split it up this year but when we started hearing about all the devastation down here from the hurricane I woke up early one morning and the light bulb went off that we needed three drivers."
"I gave Jason (Voss) a call and asked him to give some thought to it. He called me back the next morning and was all in. To win the Tecate SCORE Baja 1000 on a peninsula run takes a lot of planning and a lot of people. We had over 100 people down here supporting us and 60 of them were south of Ensenada on Monday. Starting the race really took the pressure off me because I just needed to get the truck down the trail in a timely fashion. It really paid off.
"I took care of the truck, Andy took care of the truck and when Jason got in north of Loreto he was putting about a minute every 10 miles on the rest of the people. When that happened I knew that our strategy was a good one. It was really important to SCORE and all of us to make this race come all the way down the peninsula and when the hurricane happened we thought it might not. I knew we were going to La Paz when he (Roger Norman) said La Paz needs us more now than ever.
ATV WINNER & QUICK FACTS
Winning the overall ATV title was the veteran team led by Mexico's Javier Robles Jr of Guadalupe Victoria. The Robles Jr team covered the course on a Honda TRX450R in 27:59:29, averaging 45.83 mph. Co-riders with Robles Jr on this difficult challenge were Manlio Diaz/Felipe Velez/Michael Cafro/Jorie Williams and Josh Row on a Honda TRX450R.
In the battle of car and truck manufacturers, Ford now leads with 10 chassis wins and extended its lead with 16 engine wins in this race.
Eight of the top 10 overall 4-wheel finishers in Ensenada were from the marquee SCORE Trophy Truck division for high-tech, 850-horsepower unlimited production trucks.
This year's legendary desert classic was the final event of the five-race 2014 SCORE World Desert Championship.
SCORE TROPHY TRUCK SHOWDOWN
With the season point championship on the line, two of the top five SCORE Trophy Truck point leaders were DNFs in the season-ending race. Entering number one and number four in the standings, leaving the race early with mechanical issues were Gustavo Vildosola Jr, Mexicali, Mexico in the No. 21 Vildosola Racing Branix Ford Raptor and B.J. Baldwin, Las Vegas in the No. 1 Baldwin Motorsports Monster Energy Chevy Silverado.
FOURTH & FIFTH
Fourth overall and in SCORE Trophy Truck was the team of Troy Herbst, Las Vegas/Ryan Arciero, Foothill Ranch, Calif. in 24:04:23 (53.04mph) in the No. 91 Monster Energy Terrible Herbst Motorsports Ford F-150.
Fifth was unlimited Class 1 winner Justin Davis, Chino Hills, Calif./Scott Schovajsa, Humble, Texas, with a time of 24:31:26 (52.14mph) in the No. 185 Green Army Motorsports Chevy-powered Jimco open-wheel desert race car.
CLASS 3 STALLION
Donald Moss, Sacramento, Calif., won Class 3 for the 11th consecutive year in the Tecate SCORE Baja 1000 in his sturdy Ford Bronco.
NEAR PERFECT SEASONS
Winning Class 7 for the fourth time in five races this year was Pete Sohren, Phoenix, in a Ford Ranger and winning for the fourth time this year in Pro ATV was the team led by Javier Robles Jr, Guadalupe Victoria, Mexico in a Honda TRX450R.
TRIPLE TIMERS
Winning their respective classes for the third time in 2014 were Brabec (Open M/C, Kawasaki KX450F), James Burman, Heber City, Utah (Class 7SX, Ford Ranger), Moss (Class 3), Mike Meeks, Marion, Texas, (Class 8, Dodge Ram SRT10) and Reid Rutherford, Montrose, Colo. (Class 3000, Mason-Chevy).
TWIN WINS
Earning the top spot on the podium for the second time this season were MacCachren (SCORE Trophy Truck), Mike Johnson, Santa Monica, Calif. (Class 10, Alumi Craft-Chevy), J. David Ruvalcaba, Ensenada, Mexico (Class 1/2-1600, VBR-VW), Larry Connor, Centerville, Ohio (Trophy Truck Spec, Chevy Silverado), Francisco Septien, Ensenada (SCORE Ironman, Kawasaki KX450), Richard Jackson, Acton, Calif., (Class 60, Honda CRF450X), Luis Martinez, Mexicali, Mexico (SCORE Lites, Foddrill-VW) Francisco Arredondo, Guatemala (Class 30, Honda CRF450X) and Chelsea Magness, Desert Hot Springs, Calif. (Protruck, Ford Raptor).
MORE CLASS WINNERS
Among the other car and truck class winners in this year's 47th anniversary event were Justin Davis, Chino Hills, Calif. (Class 1, Jimco-Chevy), Kevin Carr, San Diego (Class 5, VW Baja Bug), Enrique Zazueta, La Paz, Mexico (Class 5-1600, VW Baja Bug), Andrew Bell, Long Beach, Calif. (Stock Full, Toyota Tundra), Jon Largent, Riverside, Calif. (Baja Challenge, BTC-Subaru), Boe Huckins, Pueblo West, Colo. (Limited M/C, KTM 350SXF), Mike Prunty, Temecula, Calif. (Class 40, Honda CRF450X), Akira Miyuki, Japan (Class 50, Honda CRF450X).
SCORE IRONMAN CLASS
With four of six starters in the motorcycle class for solo riders for the entire race finishing, capturing the checkered flag was Mexico's veteran Francisco Septien, of Ensenada, who covered the daunting distance in 31 hours and four seconds, averaging 41.13 mph in the grueling run down the peninsula. It was his seventh class win in this race.
REVVING THE RPMs
RPM Racing, based in Bristol, Tenn., had four entries in this year's Tecate SCORE Baja 1000 and ended up with solid finishes in all four classes.
With team principals Justin Matney and Clyde Stacy leading the way, RPM Racing had finishers in the marquee SCORE Trophy Truck: No. 5 Clyde Stacy (seventh-place class finish), Class 1: No. 101 Justin Matney (second), Sportsman Unlimited Truck: No. 1444 Jim Bunn (first) and Sportsman Buggy, No. 1515 Derek Fletcher (second).
McMILLIN QUADRUPLE
San Diego's three-generation McMillin family made its presence felt again in a SCORE Baja race as entries with McMillin drivers were part of the first, second, fifth and 16th in the marquee SCORE Trophy Truck racing division.
Brothers Mark and Scott McMillin both drove in this race as did their children. The third generation SCORE desert racers competing in this race were Mark's son Luke and Daniel as well as Scott's children Jessica and Andy.
The popular second and third generation McMillin racing family had three vehicles finished in the top seven overall 4-wheel vehicles as Andy McMillin was part of the race-winning Rockstar team of Rob MacCachren, Mark McMillin was the driver of record in the fifth-place SCORE Trophy Truck that finished seventh overall. Brothers Luke and Dan were second overall and second in SCORE Trophy Truck and both Jessica and her father Scott both drove in the No. 14 Desert Assassins Chevy Silverado that finished 14th in SCORE Trophy Truck with driver of record Heidi Steele.
TIME TRAVEL
This year marked the 40th time in the first 47 years of the storied race that it started in Ensenada in Baja California Norte and it was the 20th time it finished in La Paz in Baja California Sur.
This race not only culminated the five-race 2014 SCORE World Desert Championship, but concluded the celebration of the 41st anniversary of SCORE International, the world's foremost desert racing organization.
BFGOODRICH TIRES UNMATCHED
In 2014, BFGoodrich Tires is celebrating its 39th year as a major player in SCORE Baja racing. In addition to being the official tire of SCORE International for nearly four decades, BFGoodrich Tires has produced the tire of choice for 26 of the overall 4-wheel vehicle winners in the Tecate SCORE Baja 1000, including 26 of the last 29 years along with a record-run of 20 straight from 1986 through 2005.
BFGoodrich Tires also provided unmatched pit support for pre-registered racers using their tires with seven full-service pit areas along the race course along with complete radio relay the entire 1,275.0 miles.
HALL-MARKS ALL OVER BAJA
This year's race may have indeed marked the end of an era as the legendary desert racer Rod Hall may well have competed in his last Tecate SCORE Baja 1000, which would end his record of having raced in all 47 editions of this great race. Unfortunately, he was a did not finish in this year's race, running in Stock Full when his Hummer had an early-race terminal issue, but his legacy will live on. Hall, who will turn 77 on Nov. 22, has a record 22 class wins (including one overall win in 1972), and is the only racer who has competed in all 47 SCORE Baja 1000 races.
Hall was racing this year in the Stock Full class with his son Chad Hall, granddaughter Shelby Hall and Damien Michelin as he attempts to add to his untouchable legacy. Shelby and Michelin helped give the elder Hall his 22nd class win in 2012. The popular and venerable racer has indicated that his may have been his final attempt at this race.
GLOBAL IMPRESSIONS
In addition to 34 U.S. States and the U.S. Territory of Guam, racers came from Argentina, Australia, Austria, Canada, China, Columbia, Denmark, Egypt, Finland, France, Germany, Guatemala, Japan, Mexico, New Zealand and Thailand.
DONE DEAL
After preliminary review of the data logging devices used by each vehicle in the race and with time penalties assessed accordingly for course deviations and/or speeding on short pavement sections used as part of the official race course, the results were declared official by SCORE International officials early Saturday evening.
As the finish line in La Paz closed Saturday morning, Nov. 15 at 7:49 a.m. PT for motorcycles/ATVs and closed Saturday mid afternoon at 3:59 p.m. PT for cars and trucks, there were 133 official finishers in the 47th annual Tecate SCORE Baja 1000, it was obvious that another memorable and colorful chapter has been added to the legacy of this popular desert race in the magnificent Baja peninsula. The total number of finishers (133) was 56.12 percent giving testimony to the extreme ruggedness of this year's race course.
A total of 237 starters left Ensenada in two major groups—motorcycles and ATVs on Thursday morning starting at 6 a.m. (PT) and cars and trucks starting at 12:30 p.m. (PT) Thursday. Competitors from 34 states, the U.S. Territory of Guam and 17 countries battled the rugged terrain with competition in 25 Pro and five Sportsman classes.
All vehicles had a 49-hour time limit from the time each left the start line in the elapsed-time race.
CBS SPORTS NETWORK COVERAGE
All races in the 2014 SCORE World Desert Championship series, along with the special SEMA SCORE Baja 1000 Experience and qualifying for the Tecate SCORE Baja 1000 from Las Vegas Motor Speedway, are televised on a delayed basis in the USA and Canada as a one-hour special on the CBS Sports Network. The shows, produced by SoCal's acclaimed BCII TV, air a minimum of two times on the CBS Sports Spectacular show.
All shows are scheduled to premier in the next month following the event. The success of the productions has enabled CBS Sports Network to air multiple airings of the first three 2014 races.  The SCORE San Felipe 250 had 17 extra airings, the SCORE Imperial Valley 250 had five extra airings, and the SCORE Baja 500 garnered seven hours of extra airings in CBS Sports Network.
Following the CBS Sports Network telecasts in the US, the SCORE races air worldwide in over 100 countries through international distribution.
Following are the air dates for the debut of the remaining 2014 SCORE shows on the CBS Sports Network…
•    Rigid Industries SCORE Desert Challenge, presented by the city of Imperial (debuted Sunday, Nov. 9, 9 p.m. ET, with repeat airings ongoing).
•    Tecate SCORE Baja 1000 qualifying from Las Vegas Motor Speedway/SEMA SCORE Baja 1000 Experience (Sunday, Dec. 21, 9 p.m. ET)
•    Tecate SCORE Baja 1000 (Sunday, Dec. 28, 9 p.m. ET)
CBS Sports Network is available across the country through local cable, video and telco providers and via satellite on DirecTV Channel 221 and Dish Network Channel 158. For more information, including a full programming schedule and how to get CBS Sports Network, go to www.cbssportsnetwork.com.
SCORE DirtLive HD
Desert racing public address announcer and former racer George Antill is the executive producer and host of SCORE's weekly one-hour Internet show and on-site special programming. Joining him in Mexico this week was Dianna Dahlgren, Miss Monster Energy Supercross.     With several million viewers in nearly 100 countries, the SCORE DirtLive HD one-hour show is broadcast live weekly and the show is anchored in 2014 around the five-race SCORE World Desert Championship.
The program is hosted on ustream.com, the world's largest streaming internet site.
SCORE DirtLive HD also goes on-site live with expanded event coverage during SCORE events. Live event coverage in 2014 includes the entire five-race 2014 SCORE World Desert Championship of two races in the United States and three in Baja California, Mexico.
SCORE SPONSORS…
Official Sponsors: Tecate Beer-Official Beer/Official Race Sponsor, Monster Energy-Official Energy Drink, BFGoodrich Tires-Official Tire, Rigid Industries LED Lighting-Official Lights, King Shocks-Official Shock Absorber, Polaris-Official UTV, Volaris Airlines-Official Airline, CBS Sports Network-Official Television Partner, Wide Open Excursions- Official Arrive and Drive Company, Coca-Cola-Official Soft Drink, Crystal Bay Casino-Official Casino, Hotel Coral and Marina-Official Hotel.
Associate Sponsors: SatellitePhoneStore.com and Symons Ambulance Company.
Additional SCORE Partners: Proturismo Ensenada, Visit Baja California Sur, Baja California Secretary of Tourism, Baja California Sur State Government, Mexicali Ayuntamineto, COTUCO Mexicali/San Felipe, Cruz Roja Mexicana, Corporate Helicopters, Instant Mexico Auto Insurance, GoPro, PCI Race Radios, McKenzie's Performance Products and Advanced Color Graphics.
For more information, visit the official website of the SCORE World Desert Championship at www.score-international.com.
Tecate SCORE Baja 1000 Overall Champions
(1967 through 2014)
YEAR DRIVERS/RIDERS  VEHICLE TIME
1967 Vic Wilson/Ted Mangels Meyers Manx VW 27:38
J.N. Roberts/Malcolm Smith Husqvarna 28:48
1968 Larry Berquist/Gary Preston Honda 20:38:28
Larry Minor/Jack Bayer Ford Bronco 21:11:32
1969 Larry Minor/Rod Hall Ford Bronco 20:48:10
Gunnar Nilsson/J.N. Roberts Husqvarna 21:35:52
1970 Drino Miller/Vic Wilson Miller VW 16:07
Mike Patrick/Bill Bowers Yamaha 18:31
1971 Parnelli Jones/Bill Stroppe Ford Bronco 14:59
Malcolm Smith/Gunnar Nilsson Husqvarna 16:51
1972 Parnelli Jones/Bill Stroppe Ford Bronco 16:47
Gunnar Nilsson/Rolf Tibblin Husqvarna 19:19
1973 Bobby Ferro/Johnny Johnson Funco VW 16:50:25
Mitch Mayes/A.C. Bakken Husqvarna 18:42:51
1974 NO RACE
1975 Al Baker/ Gene Cannady Honda 18:22:55
Malcolm Smith/Dr. Bud Feldkamp Hi-Jumper VW 18:55:49
1976 Larry Roeseler/Mitch Mayes Husqvarna 11:30:47
Ivan Stewart Chenowth VW 12:17:28
1977 Brent Wallingsford/Scot Harden Husqvarna 14:37:07
Malcolm Smith/Dr. Bud Feldkamp Funco VW 15:10:42
1978 Larry Roeseler/Jack Johnson Husqvarna 10:23:47
Mark Stahl Chenowth VW 12:55:42
1979 Larry Roeseler/Jack Johnson Husqvarna 19:48:04
Walker Evans/Bruce Florio Dodge pickup 20:48:27
1980 Larry Roesler/Jack Johnson Yamaha 12:45:13
Mark Stahl Chenowth VW 13:33:55
1981 Scot Harden/Brent Wallingsford Husqvarna 17:14:05
Mark McMillin/Thomas Hoke Chenowth VW 20:29:14
1982 Al Baker/Jack Johnson Honda 17:25:27
Mickey Thompson/Terry Smith Raceco VW 19:40:23
1983 Dan Smith/Dan Ashcraft Husqvarna 14:48:10
Mark McMillin/Ralph Paxton Chenowth VW 20:29:14
1984 Chuck Miller/Randy Morales Honda 14:34:34
Mark McMillin/Ralph Paxton Chenowth VW 16:27:09
1985 Randy Morales/Derrick Paiement Honda 17:44:42
Steve Sourapas/Dave Richardson Raceco VW 17:54:55
1986 Bruce Ogilvie/Chuck Miller Honda 18:05:52
Mark McMillin/Ralph Paxton Chenowth Porsche 18:26:28
1987 Dan Ashcraft/Bruce Ogilvie Honda 12:02:14
Bob Gordon/Malcolm Smith Chenowth Porsche 13:15:04
1988 Paul Krause/Larry Roeseler/Danny LaPorte Kawasaki 11:33:45
Mark McMillin Chenowth Porsche 13:07:09
1989 Larry Roeseler/Danny LaPorte/Ted Hunnicutt Jr. Kawasaki 17:53:16
Robby Gordon Ford Pickup 18:04:07
1990 Larry Roeseler/Ted Hunnicutt Jr./Danny LaPorte Kawasaki 11:11:45
Bob Gordon/Robyn Gordon/Robby Gordon Chenowth Chevy 12:30:45
1991 Larry Roeseler/Ted Hunnicutt Jr./Marty Smith Kawasaki 13:35:25
Larry Ragland Chevrolet pickup 16:37:35
1992 Danny Hamel/Garth Sweetland/Paul Ostbo Kawasaki 16:50:12
Paul & Dave Simon Ford Ranger 16:53:02
1993 Ivan Stewart Toyota SR5 13:29:11
Danny Hamel/Larry Roeseler/Ty Davis Kawasaki 13:57:23
1994 Danny Hamel/Larry Roeseler/Ty Davis Kawasaki 10:20:47
Jim Smith (Trophy-Truck) Ford 10:28:56
Dave Ashley/Dan Smith Ford F-150 10:43:43
1995 Paul Krause/Ty Davis/Ted Hunnicutt Jr. Kawasaki 19:31:19
Larry Ragland (Trophy-Truck) Chevrolet 20:14:12
Dale White Chevy Truck 21:57:03
1996 Paul Krause/Ty Davis/Greg Zitterkopf Kawasaki 14:11:02
Larry Ragland (Trophy-Truck) Chevrolet 14:38:59
Ryan Thomas Chenowth 15:53:56
1997 Johnny Campbell/Tim Staab/Greg Bringle Honda 13:19:59
Larry Ragland (Trophy-Truck) Chevrolet 13:53:46
Doug Fortin Chenowth 14:31:02
1998 Johnny Campbell/Jimmy Lewis Honda 18:58:48
Ivan Stewart Toyota 19:08:20
1999 Johnny Campbell/Tim Staab Honda 14:15:42
Larry Ragland Chevy 14:26:36
2000 Johnny Campbell/Tim Staab/ Craig Smith, Steve Hengeveld Honda 30:54:12
Dan Smith/Dave Ashley Ford 32:15:39
2001 Johnny Campbell/Tim Staab Honda 13:51:40
Doug Fortin/Charlie Townsley Jimco Chevy 14:35:42
2002 Steve Hengeveld/Johnny Campbell/Andy Grider Honda 16:17:28
Dan Smith/Dave Ashley, Ford 16:19:03
2003 Steve Hengeveld/Johnny Campbell/Bruce Ogilvie Honda 15:39:52
Doug Fortin/Charlie Townsley Jimco Chevy 16:24:02
2004 Steve Hengeveld/Johnny Campbell/Kendall Norman, Honda 15:57:37
Troy Herbst/Larry Roeseler, Smithbuilt-Ford 16:18:14
2005 Steve Hengeveld/Johnny Campbell/Mike Childress, Honda 14:20:30
Larry Roeseler/Troy Herbst, Smithbuilt-Ford 15:06:19
2006 Steve Hengeveld/ Mike Childress/Quinn Cody, Honda 18:17:50
Andy McMillin/Robby Gordon, Chevy C1500 19:15:17
2007 Robby Bell/Steve Hengeveld/Johnny Campbell/Kendall Norman, Honda 24:15:50
Mark Post/Rob MacCachren/Carl Renezeder, Ford 25:21:25
2008 Robby Bell/Kendall Norman/Johnny Campbell, Honda 12:29:18
Roger Norman/Larry Roeseler, Ford F-150 12:40:33
2009 Kendall Norman/Timmy Weigand/Quinn Cody, Honda 13:27:50
Andy McMillin/Scott McMillin, Chevy Silverado 14:19:50
2010 Gus Vildosola Jr./Gus Vildosola Sr., Ford 19:00:04
Kendall Norman/Quinn Cody, Honda 19:20:52
2011 Kendall Norman/Quinn Cody/Logan Holladay, Honda 14:14:25
Andy McMillin/Scott McMillin, Ford 14:51:36
2012 B.J. Baldwin, Chevy, 20:00:59
Colton Udall/Timmy Weigand/David Kamo, Honda, 20:09.30
2013 Timmy Weigand/Colton Udall/David Kamo/Mark Samuels, Honda, 18:29:14
B.J. Baldwin, Chevy, 18:36:30
2014 Rob MacCachren/Andy McMillin/Jason Voss, Ford, 22:32:27
Ricky Brabec/Robby Bell/Steve Hengeveld/Max Eddy Jr, Kawasaki, 24:24:01
Tecate SCORE Baja 1000
Overall Champions
Cars & Trucks
13
Larry Roeseler*
5
Mark McMillin
Larry Ragland
Malcolm Smith**
4
Dan Smith***
Andy McMillin
3
Dave Ashley
Doug Fortin Jr.
Robby Gordon
Ralph Paxton
Ivan Stewart
2
B.J. Baldwin
Dr. Bud Feldkamp
Bob Gordon
Troy Herbst
Parnelli Jones
Rob MacCachren
Scott McMillin
Larry Minor
Mark Stahl
Gus Vildosola Sr.
Vic Wilson
1
Walker Evans
Bobby Ferro
Robyn Gordon
Rod Hall
Johnny Johnson
Drino Miller
Roger Norman
Mark Post
Carl Renezeder
Dave Simon
Paul Simon
Jim Smith
Steve Sourapas
Ryan Thomas
Mickey Thompson
Gus Vildosola Jr.
Jason Voss
Dale White
*10 on Motorcycle
**2 on Motorcycle
***1 on Motorcycle
Motorcycles
11
Johnny Campbell
8
Steve Hengeveld
6
Kendall Norman
4
Quinn Cody
Ty Davis
Ted Hunnicutt Jr.
Jack Johnson
Tim Staab
3
Robby Bell
Danny Hamel
Paul Krause
Danny LaPorte
Gunnar Nilsson
Bruce Ogilvie
Timmy Weigand
2
Dan Ashcraft
Al Baker
Mike Childress
Scot Harden
David Kamo
Mitch Mayes
Chuck Miller
Randy Morales
J.N. Roberts
Colton Udall
Brent Wallingsford
1
A.C. Bakken
Larry Berquist
Bill Bowers
Ricky Brabec
Greg Bringle
Gene Cannady
Max Eddy Jr
Andy Grider
Logan Holladay
Jimmy Lewis
Paul Ostbo
Derrick Paiement
Mike Patrick
Gary Preston
Dave Richardson
Mark Samuels
Craig Smith
Marty Smith
Garth Sweetland
Rolf Tibblin
Greg Zitterkopf
Overall Chassis Wins
Cars & Trucks
10
Ford Truck
9
Chevrolet Truck
5
Chenowth-VW
4
Ford Bronco
3
Chenowth-Porsche
2
Chenowth-Chevy
Funco-VW
Jimco-Chevy
Raceco-VW
Smithbuilt-Ford
Toyota Truck
1
Miller-VW
Hi-Jumper-VW
Dodge Truck
Meyers Manx-VW
Overall Engine Wins
Cars & Trucks
16
Ford
13
Chevy
12
Volkswagen
3
Porsche
2
Toyota
1
Dodge
Cars and Trucks
Tire Manufacturers
26
BFGoodrich
6
Western Auto
4
Firestone
3
Calahan cap
Toyo
1
Armstrong
Gates
Goodyear
Mickey Thompson
Tectira
Motorcycles
24
Honda
11
Husqvarna
10
Kawasaki
2
Yamaha
SCORE MEDIA CONTACT: Dominic Clark, dominiccnv@aol.com