GREENVILLE, S.C., Sept. 15, 2017 ― More than four decades of desert racing and tire development in the Baja peninsula of Mexico have left a lasting impression for BFGoodrich Tires. Today, the storied off-road tire brand announced an extended partnership of SCORE International desert racing.
BFGoodrich Tires will remain the "Official Tire of SCORE International and SCORE World Desert Championship" as part of a multi-year agreement. Additionally, BFGoodrich Tires announced its title sponsorship of this year's SCORE Baja 1000, the 50th anniversary of the world's greatest desert race. Finally, BFGoodrich also will be a top sponsor of the 2018 SCORE Baja 500.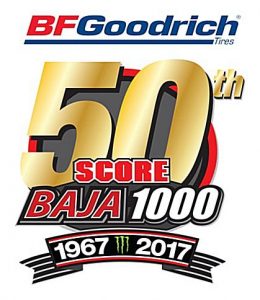 "BFGoodrich's position as a leader in the off-road culture and desert-racing discipline is a result of the commitment to product development in Baja and the right partnerships that have enabled that success," said Chris Baker, Motorsports Director, BFGoodrich and Michelin North America. "Our commitment to motorsports, in a variety of disciplines, is critical to our brand. From the foundation laid by Sal Fish, when he first convinced our brand to come to Baja, to the current leadership under Roger Norman, with an ambitious vision for desert racing, SCORE has fostered a competitive environment that allows brands like ours to learn and prove our capabilities. We are proud to announce our continuing partnership with SCORE and thrilled to put our name on the iconic 50th running of the Baja 1000."
Since 1976, BFGoodrich has tallied more overall and class wins in SCORE Baja racing than any other tire manufacturer, claiming the overall win for more than 70 percent of these races.
"SCORE International and BFGoodrich Tires have enjoyed an outstanding partnership for the past 40-plus years. We are now excited to announce the next level of that partnership as BFGoodrich becomes the title sponsor of the historic 2017 SCORE Baja 1000 50th Anniversary race event," said Roger Norman, president of SCORE International. "This new agreement, including the continued 'Official Tire' sponsorship, demonstrates BFGoodrich Tires' continued commitment to supporting and growing SCORE International and the desert-racing global  base of fans and participants."
About BFGoodrich Tires
With more than 100 years of heritage, BFGoodrich Tires is dedicated to providing high performance tires for those who have a passion for driving in virtually any environment. Combining technical expertise with 45 years of motorsports experience, BFGoodrich Tires delivers tires for a full range of driving experiences from ultra-high performance street to off-road terrain with one common theme – extreme performance. Come upgrade your performance with BFGoodrich and see where our tires can take you at www.BFGoodrichTires.com, on Facebook at www.Facebook.com/BFGoodrichTiresor on Twitter at @BFGoodrichTires.
Media Contact:
Tom Sullivan
office: 864.458.4321
mobile: 704.222.
Tom Sullivan
Manager, Public Relations