SCORE MEDIA CONTACT: Dominic Clark, dominiccnv@aol.com
October 3, 2018
Granddaddy of All Desert Races
Epic 'Racing into History' book available at www.SCORE-International.com—
saluting BFGoodrich Tires 50th SCORE Baja 1000; historic stats of iconic race
Colorful 416-page commemorative hard-cover book receiving rave reviews
as fitting tribute to Golden Anniversary of the legendary SCORE Baja 1000
    ENSENADA, Mexico— Chronicling the Golden Anniversary of the Granddaddy of All Desert Races the colorful 416-page 'Racing into History' hard-cover book salutes last November's BFGoodrich Tires 50th SCORE Baja 1000 and is now available for purchase on the SCORE website At The SCORE STORE.
     Receiving rave reviews in early release, the commemorative book spotlights many of the legends of SCORE Baja racing as well as providing a complete look at the stats from the first 50 years of the epic event. Questions regarding the sales and shipping of the book may be directed to the SCORE office in Reno, Nev. at 775. 852.8907. The purchase price for this once-in-a-lifetime book on the legendary SCORE Baja 1000 is US$100.
     While the entire project was overseen by SCORE Sales and Marketing Director Jim Ryan, contributors to the research, interviews, photography, text and graphics involved in the near 10-month project were numerous.
SPECIAL THANKS
     "While truly hundreds of people have contributed to the completion of this massive project, there are several that should definitely be highlighted," commented Ryan. "First and foremost, without the passion and enthusiastic support of this book project by SCORE owners Roger and Elise Norman, it would have never happened."
     "Major contributors in putting together this magnificent book where led the superior photographic efforts of Art Eugenio (Get Some Photography), the spectacular graphic design work of Jack Wright (nMedia3), SCORE Journal's editorial and production team of Dan Sanchez and Ashley Horne and the enduring text, historical and statistical data compiled by SCORE Media Operations Director Dominic Clark."
     "We believe we have truly captured the essence of this international racing icon for generations to come. It was definitely a tremendous undertaking and a veritable labor of love."
THE RACE
    The race itself featured 404 official starters from 44 U.S. States, the District of Columbia, the U.S. Territories of Guam and Puerto Rico and 28 countries. The Golden Anniversary race started in Ensenada and finished in La Paz.
     Mexico's son and father team of Carlos 'Apdaly' Lopez and Juan C. Lopez captured the overall and SCORE Trophy Truck victory and the special US$50,000 bonus from race title sponsor BFGoodrich Tires. The duo covered the grueling golden 1,134.40 miles in 19 hours, 53 minutes and 36 seconds to race into history while averaging 57.02 miles per hour in their No. 1 RPM Racing Chevy Rally Truck.
INTROS
     The unique book includes special introductions from Ryan, former SCORE owner Sal Fish and current SCORE owner Roger Norman.
LEGENDS
     The bountiful book includes features on no less than 37 legends of the SCORE Baja 1000 including Ed Pearlman, Mickey Thompson, Sal Fish, Roger Norman, Parnelli Jones, Rod Hall, Walker Evans, Larry Ragland, Rob MacCachren, Larry Roeseler, Tim and Troy Herbst, Jack Johnson, Malcolm Smith/Bud Feldkamp, Johnny Campbell, Ivan Stewart, Robby Gordon, Johnny Johnson and the three-generation McMillin family racers.
COVERAGE
     A total of 36 pages of the book are devoted to pre-race activities along with another 162 pages to the race itself and the post-race awards ceremony.
PRE-RACE
     Among the items in the pre-race section of the book is coverage of the build, the celebration of a golden anniversary, the new SCORE Baja 1000 Walk of Fame, the Monster Party, the Media Conference with BFGoodrich Tires awards, the Opening Ceremony and 10 pages of the official 50th SCORE Baja 1000 entry list.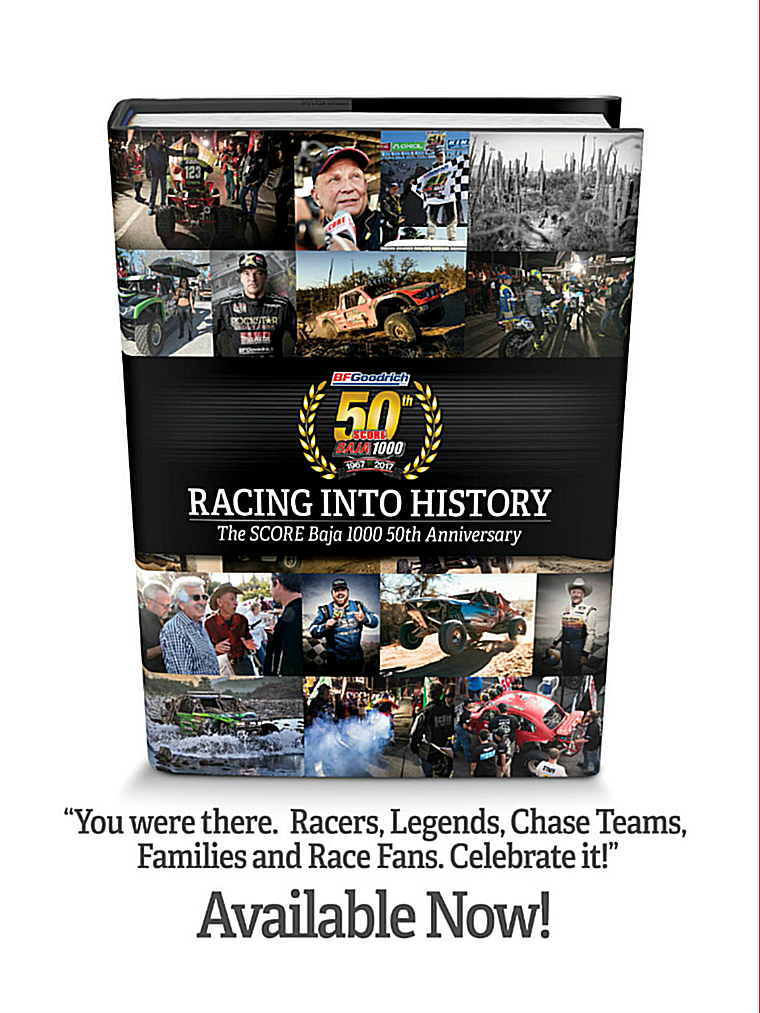 THIS YEAR
      Over 300 entries, from 35 U.S. States and 20 countries are expected to compete in this year's 51st anniversary celebration of the SCORE Baja 1000 which is revered worldwide as the Granddaddy of all Desert Races.
     The world's most iconic, oldest, prestigious and longest continuously held desert race, this year's SCORE Baja 1000 will be a loop race of 806.76 miles in the northern state of Mexico's majestic Baja California peninsula. It will start for the 44th time and finish for the 25th time in Ensenada and dates for the race and race week festivities are Nov. 12 through Nov. 18. The race is annually the finale of the four-race SCORE World Desert Championship, which has been held exclusively for the past three years in Baja California.
     With a total time limit of 36 hours in the elapsed-time race, the motorcycle and quad classes will start at 4 a.m. (PT) on Friday, Nov. 16 and the car, truck and UTV classes will follow with their start on at 10:30 a.m. (PT)on Friday, Nov. 16. This year's course map is available on the SCORE website under race info on the SCORE Baja 1000 page at www.SCORE-International.com.
RACER REGISTRATION
     Racer Registration for this year is open at www.SCORE-International.com under Race Info on the SCORE Baja 1000 page. Any questions, contact SCORE Registration Director Audreonna Cuarez at 775. 852.8907.
NUMERO UNO, DOS TIEMPOS
     In a special voting held in 2016 and 2017, the invincible SCORE Baja 1000 was selected as the No. 1 motorsports event in the world both years in a reader's choice voting conducted by the USA Today newspaper, defeating such events as the Indy 500 and the Knoxville Nationals.
SCOREscope
2018 REMAINING SCHEDULE
51st SCORE Baja 1000, Nov.13-18, Ensenada, Mexico
2019 SCHEDULE
     Here is the four-race 2019 SCORE World Desert Championship and for the fourth consecutive year all races are being held in Baja California, Mexico:
33rd SCORE San Felipe 250, April 3-7, San Felipe, Mexico
51st SCORE Baja 500, May 29-June 2, Ensenada, Mexico
Inaugural Lucerna SCORE Baja 400, Sept. 19-23, Ensenada, Mexico
52nd SCORE Baja 1000, Nov.12-17, Ensenada, Mexico
TV TIME
     SCORE races are airing domestically on the El Rey Network and outside of the U.S. on ESPN International as well as syndication. The SCORE Baja 1000 race coverage show will be a two-hour special.
     El Rey Network is a 24-hour, English-language lifestyle network and is available in 45 million homes across the country through cable and OTT providers and via satellite on DirecTV Channel 341 and Dish Network Channel 253. For more information on how to watch El Rey visit http://elreynetwork.com.
SCORE SPONSORS…
     Official SCORE Sponsors: BFGoodrich Tires-Official Tire and official race title sponsor, Monster Energy-Official Energy Drink, King Shocks-Official Shock Absorber, Polaris RZR-Official UTV, RACELINE Wheels-Official Wheel, VP Racing Fuels-Official Fuel, Lucerna Hotels & Resorts-Official Hotel and official race title sponsor, Wide Open Excursions-Official Arrive and Drive Company, Crystal Bay Casino-Official Casino.
     SCORE Official Partners: PCI Race Radios, 4 Wheel Parts, The Satellite Phone Store, Satellite Del Norte.
     Additional SCORE Associate Partners: Proturismo Ensenada, Baja California Secretary of Tourism, Mexicali Ayuntamiento, COTUCO Mexicali/San Felipe, Cruz Roja Mexicana, Corporate Helicopters, McKenzie's Performance Products, Advanced Color Graphics.
     Lucerna Hotels & Resorts 22nd Tijuana SCORE Desert Challenge Special Partners: XXII Ayuntamiento de Tijuana, Baja California State Secretary of Tourism, Comite de Turismo and Convenciones, Comite de Marcadotecnia Turistica, Lucerna Hotels and Resorts, Asociacion de Hoteles del Noroeste.
     For more information regarding SCORE, visit the official website of the SCORE World Desert Championship atwww.SCOREInternational.com.