POMONA, CA— George Antil and Deborah Dahlinger will be webcasting live today all of the action from the SCORE Baja 1000 area of the Lucas Oil Off-Road Expo here. The Live Streaming Webcast begins at 11 a.m. pacific, right here on SCORE-International.com.
In addition to showcasing current SCORE desert racing vehicles, drivers and sponsors, the Bud Light SCORE Baja 1000 official course map for the race will be unveiled by SCORE officials at 3 p.m. (PT) on Saturday, Oct. 3.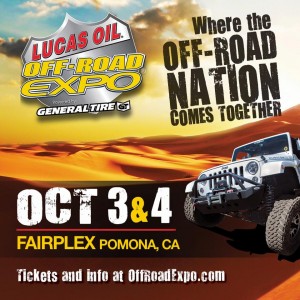 OFF-ROAD EXPO MEET & GREETS
Crowd favorite autograph sessions will also be taking place on both Saturday and Sunday with many of the stars of the sport, both past and present who have built their legacy in the Bud Light SCORE Baja 1000. Additional highlight of the SCORE Baja 1000 exhibit will be the SCORE Monster Energy Cinema, featuring SCOREvision, massive multiple LED screens showing race telecasts that have aired on the CBS Sports Network as well as historical race videos that are part of the legendary legacy of SCORE Baja racing.
Among the legends, past and present, scheduled to appear at the SCORE Baja 1000 autograph sessions are SCORE owner Roger Norman, former SCORE owner Sal Fish, Ivan 'Ironman' Stewart, Rod Hall, Rob MacCachren, Colton Udall/Mark Samuels, Carlos Lopez, Eduardo Laguna, Jonathan Brenthel, Jordan Brenthel, Wayne Matlock, Justin Lambert, Justin Davis, Cameron Steele, Heidi Steele and Ricky Brabec/Max Eddy Jr. SCORE expects some other 'surprise' SCORE Baja racing legends as well for the two autograph sessions.
TROPHY CASE
The SCORE Baja 1000 Exhibit at the Off-Road Expo will include multiple vehicle displays as well. Among the vehicles on display will be the legendary Terrible Herbst Motorsports 'Landshark' unlimited Class 1 open-wheel race car built by Mike Smith, driven by Troy Herbst to six SCORE point championships. Also on display will be Roger Norman's SCORE Trophy Truck, Mickey Thompson's restored vintage Class 2 open-wheeler, Steven Eugenio's SCORE Trophy Truck, Rugged Radio's Class 11 VW Sedan, Justin Lambert's Cognito Motorsports UTV, Jordan Brenthel's Trophy Truck Spec, Justin Davis' Class 10 car, Ricky Brabec's 1x motorcycle, Colton Udall's 5x motorcycle, a COPS desert racing vehicle, Wayne Matlock's UTV and a Baja Challenge Subaru-powered Baja Touring Car from Wide Open Excursions.
MORE EXPO INFO
The 2015 Lucas Oil Off-Road Expo is the greatest collection of off-road companies, parts, equipment, gear, and experts assembled in America. From off-road racing to rock crawling, trail riding to sand sports, motorcycles to ATV's and camping to adventure travel, the event provides the unique opportunity to meet and talk with the most knowledgeable people in the off-road industry. With a full weekend of excitement, other event features include over 300 industry-specific vendors, the Lucas Oil Off-Road Racing Demo at the MAV TV Proving Grounds, Rubicon Trail – Off Road Vehicle Ride Along, Radio vehicle demonstrations, DragonFire Racing ride along, the Miss Off-Road Expo Contest and live music all weekend at the Budweiser Stage.
SCORE Live HD at the Expo
The SCORE Baja 1000 exhibit at the Expo will include live internet coverage both days on SCORE Live HD (www.score-international.com) with interviews with the SCORE Baja legends, the Monster girls as well as the live internet coverage of the start drawing and course map unveiling.