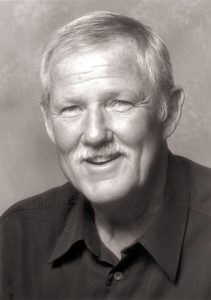 LAS VEGAS—Jerry Herbst, Founder and Chairman of Terrible Herbst Inc., passed away peacefully at his home on November 27, 2018, at the age of 80.
Jerry founded the locally owned and operated chain, Terrible Herbst Inc., in 1959, growing the company with the community.
     "Jerry Herbst was not only one of the pillars in the foundation of the growing of Las Vegas, he was also one of the pioneers of desert racing, especially in Southern Nevada," reflected Roger Norman, CEO/President of the SCORE International desert racing organization.
     "His impact as a philanthropist, as a businessman and as a sportsman will leave an indelible mark on Southern Nevada and all of desert racing. But most of all, his lasting legacy will be the eternal mark he has left as a husband, father and grandfather as the family patriarch of the Herbst family."
     A racer himself for many years both in the desert and on the water, Jerry Herbst won his class with another Las Vegas business pioneer and good friend Mart Collins in the 1970 Baja 500 desert race in Ensenada, Baja California, Mexico.
     As a mentor for his three sons—Ed, Tim and Troy, Jerry Herbst taught them the principals of strong business as well as the intricacies of desert racing and high-speed water skiing.
     Terrible Herbst Motorsports is part of the fabric of SCORE International and the four-race SCORE World Desert Championship. And Mr. Herbst was always overseeing and helping enjoy "The Boys" from his comfortable seat in one of his signature red Terrible Herbst helicopters."
     Terrible Herbst Motorsports fields two SCORE Trophy Trucks, the premier class for high-tech, 950-horsepower unlimited custom trucks. The No. 19 is driven by the two oldest Herbst brothers Ed and Tim. The No. 54 truck is driven by Troy Herbst, the youngest of the three Herbst brothers.
      Jerry Herbst put his name on three SCORE Las Vegas Terrible's Cup races held in the mid-1990s at Las Vegas Motor Speedway. He also posted bonus purses for several SCORE races over the years as well as sponsor the SCORE Las Vegas Primm 300 desert race for several years.
     Today, Terrible Herbst owns and operates more than 160 convenience stores, car wash and lube locations throughout Southern Nevada.
     Just this summer, the company opened Terrible's Road House, a 50,000-square-foot convenience store and the world's largest Chevron with 96 pumps that now stands as a capstone to Jerry's remarkable career building a company that has become an integral part of the Southern Nevada community.
     In total, Terrible Herbst provides employment to more than 2,300 individuals throughout its numerous organizations.
     While best known in the community for his business acumen and philanthropic efforts, that is just the beginning of his impact on Southern Nevada.
Jerry is an inductee into both the Off-Road Motorsports Hall of Fame and the Southern Nevada Sports Hall of Fame.
     Along with pioneering the sport, Terrible Herbst Motorsports, led by Jerry, has been a force in the SCORE World Desert Championship with 23 Class 1 event victories, 11 SCORE Trophy Truck event victories and six consecutive Class 1 championship victories, to name just a few.
     Terrible Herbst's famous gas-slinging caricature logo is a beloved representation of Jerry's nickname – "the best bad guy of the West."
     The giant flags, for which Terrible Herbst is known and which symbolize Jerry's love of country, will be lowered to half-staff in his remembrance at all Terrible Herbst locations beginning tomorrow, November 28. Plans for a memorial service will be announced at a later date.