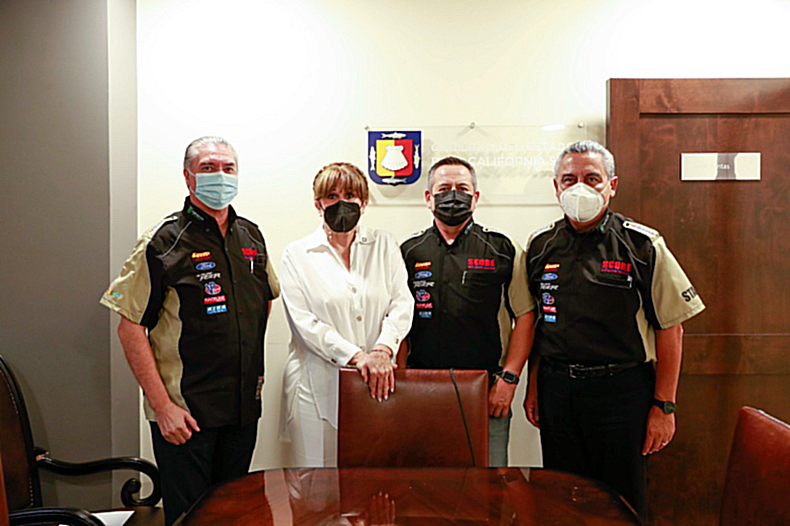 September 23, 2021
SCORE International President & Race Director, Jose Abelardo Grijalva and General Manager, Juan Tintos Funcke and SCORE Administrator Marco Durazo,  met today with new Baja California Sur Governor, Victor Manuel Castro Cosio and members of his Cabinet to review the current status of the 2021 SCORE Baja 1000.  Governor Castro just took office this past September 10 and being the former Mayor of La Paz, Governor Castro and his staff are big supporters of the SCORE World Desert Championship series and especially the SCORE Baja 1000.
Governor Castro along with the State Secretary of Economy and Tourism Maribel Collins, State Secretary of Finance Bertha Montano and other government officials went over details regarding the upcoming 54th SCORE Baja 1000. These topics covered the route, the participation of the different Municipalities and the Finish-Line set-up in La Paz, as well as the world-wide promotions and economic benefits the race will generate for Baja Sur.  They agreed to continue working in close coordination with Municipal and State Authorities in both states as well as with the Federal Government, land owners, ejidos and private sector organizations along the peninsula in order to put on a world-class event such as the 2021 SCORE Baja 1000."
Governor Castro further stated, "This global race event will be carried out in respect of health security measures, but also the environment and ownership of ranchers and exidates of our land. I'm sure it will help re-position our state as a benchmark for the enjoyment of thousands of off-road fans, and will generate an economic outpour for various sectors".