SCORE MEDIA CONTACT: Dominic Clark, dominiccnv@aol.com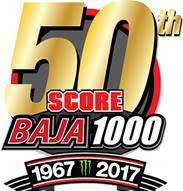 Nov. 14-18 race dates
SCORE Baja 1000 exhibit returning to popular Off-Road Expo
SCORE World Desert Championship exhibit Sept. 30-Oct. 1 in SoCal's Fairplex in Pomona
to salute SCORE's Baja legends
    ENSENADA, Mexico—SCORE International's SCORE World Desert Championship will continue to have a major presence at the Lucas Oil Off-Road Expo at the Fairplex, in Pomona, Calif. To be held Saturday, Sept. 30 and Sunday, Oct. 1, the extensive SCORE Baja 1000 exhibit area in Building 5 will once again offer desert-racing fans the opportunity to interact with the top desert racing teams in the world while viewing the most radical motorsports vehicles ever developed.
Over 350 entries, from 40 U.S. States and 30 countries are expected to compete in this year's 50th annual SCORE Baja 1000.
The world's most iconic, oldest, prestigious and longest continuously held desert race, this year's SCORE Baja 1000 will be held as a race down Mexico's majestic Baja California peninsula, starting in Ensenada, Baja California Norte and finishing in La Paz, Baja California Sur. Dates for the race and race week festivities will be Nov. 12 through Nov. 18. The race is annually the finale of the four-race SCORE World Desert Championship, held exclusively for the past two years in Baja California.
In addition to showcasing current SCORE desert racing vehicles, drivers and sponsors, the SCORE Baja 1000 official course map for the race will be unveiled by SCORE officials at 3 p.m. (PT) on Saturday, Sept. 30.
OFF-ROAD EXPO MEET & GREETS
Crowd favorite autograph sessions will also be taking place from 12:30 p.m. to 2 p.m. on both Saturday, Sept. 30 and Sunday, Oct. 1 with many of the stars of the sport, both past and present who have built their legacy in the SCORE Baja 1000.  Additional highlight of the SCORE Baja 1000 exhibit will be the SCORE Monster Energy Cinema, featuring SCOREvision, massive LED screen showing race telecasts that have aired on the CBS Sports Network as well as historical race videos that are part of the legendary legacy of SCORE Baja racing.
Among the legends, past and present, scheduled to appear at the SCORE Baja 1000 autograph sessions are SCORE owner Roger Norman, legendary former SCORE owner Sal Fish, Ivan 'Ironman' Stewart, Larry Roeseler, B.J. Baldwin, Rob MacCachren, Gus 'Tavo' Vildosola Jr., Bryce Menzies, Cameron Steele, Heidi Steele, Mark Samuels, Carlos 'Apdaly' Lopez, Jonathan Brenthel, Jordan Brenthel, Marc Burnett, Mark Winkelman and Jim O'Neal. SCORE expects some other 'surprise' SCORE Baja racing legends as well for the two autograph sessions.
Sal Fish, who led SCORE for 38 years from 1974 through 2012, will be the Grand Marshal for November's 50th anniversary celebration of the iconic SCORE Baja 1000.
SCORE COMMENTS
"With the support of and assistance from the Off-Road Expo and our sponsors, SCORE is honored to once again present the SCORE Baja 1000 exhibit at the Expo in a such a huge way to celebrate the 50th anniversary this year of the SCORE Baja 1000 and to continue introducing the next generation of racers and fans to the what the SCORE racing is all about ," said Roger Norman, SCORE CEO/President who himself is a former champion SCORE Trophy Truck racer and SCORE Baja 1000 champion.
FAB FIFTY
During the colorful weekend, SCORE will also be previewing the special plans and additional event details to celebrate November's historic 50th anniversary of the SCORE Baja 1000 race.
NUMERO UNO, DOS TIEMPOS
For the second straight year, the invincible SCORE Baja 1000 has been selected as the No. 1 motorsports event in the world in a reader's choice voting conducted by the USA Today newspaper, defeating such events as the Indy 500 and the Knoxville Nationals.
MORE EXPO INFO
The 2017 Lucas Oil Off-Road Expo will once again be the largest and greatest collection of off-road companies, parts, equipment, gear, and experts assembled in America. From off-road racing to rock crawling, trail riding to sand sports, motorcycles to quads and camping to adventure travel, the event provides the unique opportunity to meet and talk with the most knowledgeable people in the off-road industry. With a full weekend of excitement, other event features include over 350 industry-specific vendors, the Lucas Oil Off-Road Racing Demo at the MAV TV Proving Grounds, Rubicon Trail – Off Road Vehicle Ride Along, O'Reilly Auto Parts Show-N-Shine, the Miss Off-Road Expo Contest and live music all weekend at the Bud Light Entertainment Stage.
SCORE Live at the Expo
The SCORE Baja 1000 exhibit at the Expo will include live internet coverage on the SCORE website with interviews with the SCORE Baja legends as well as the live internet coverage of the course map unveiling.
EL REY NETWORK
The four-race 2017 SCORE World Desert Championship in Baja California, Mexico along with the SEMA SCORE Baja 1000 Experience/SCORE Baja 1000 Qualifying in Las Vegas are all airing on El Rey Network in the United States. International distribution is by way of syndication. The season-ending 50th SCORE Baja 1000 will have a two-hour show produced while the other race shows are each one-hour telecasts.
El Rey Network is a 24-hour, English-language lifestyle network targeting "Strivers," viewers who hold strong core beliefs about the importance of family, independence, hard work, craftsmanship, and legacy.
Founded by maverick filmmaker Robert Rodriguez, and curated by Rodriguez and his artistic collective, the network features action-packed programming, relatable heroes and aspirational stories that embrace today's America. El Rey's slate is anchored by signature series including the original drama "From Dusk Till Dawn: The Series," the one-on-one interview program "El Rey Network Presents: The Director's Chair," and "Lucha Underground," a lucha libre wrestling series produced by Mark Burnett.
El Rey Network's lineup also showcases a wide range of iconic feature films and television series including genre, action, and sci-fi/ horror. El Rey Network LLC is jointly owned by Robert Rodriguez and FactoryMade Ventures, with a minority stake held by Univision Networks & Studios, Inc.
El Rey Network is available in 45 million homes across the country through cable and OTT providers and via satellite on DirecTV Channel 341 and Dish Network Channel 253. For more information on how to watch El Rey visit http://elreynetwork.com.
DUST2GLORY
From award-winning documentary filmmaker Dana Brown, Dust2Glory chronicled each of the four races in the 2016 SCORE World Desert Championship. D2G, which began shooting at the 2015 SCORE Baja 1000, continued up close and personal coverage capturing the robust racers in their amazing adventures in Mexico's majestic Baja California peninsula through all four spectacular 2016 races. Dust2Glory is scheduled for release later this year.
SCOREscope
The four-race 2017 SCORE World Desert Championship and for the second time all four are being held in Baja California, Mexico. Here is the complete 2017 SCORE World Desert Championship schedule:
31st SCORE San Felipe 250, March 30-April 2, San Felipe, Mexico
49th SCORE Baja 500, June 1-4, Ensenada Mexico
Tijuana 21st SCORE Desert Challenge, Sept. 20-24, Tijuana, Mexico
50th SCORE Baja 1000, Nov.12-18, Ensenada, Mexico to La Paz, Mexico
SCORE SPONSORS…
Official SCORE Sponsors: BFGoodrich Tires-Official Tire, Monster Energy-Official Energy Drink, King Shocks-Official Shock Absorber, RACELINE Wheels-Official Wheel, Axial R/C-Official R/C Vehicle, El Rey Network-Official Television Partner, Wide Open Excursions-Official Arrive and Drive Company, Crystal Bay Casino-Official Casino.
SCORE Official Partners: PCI Race Radios, 4 Wheel Parts, The Satellite Phone Store, Satellite Del Norte, Instant Mexico Auto Insurance, CETTO Vineyards.
Additional SCORE Associate Partners: Proturismo Ensenada, Baja California Secretary of Tourism, Baja California Sur State Government, Baja California Sur Secretary of Tourism, Mexicali Ayuntamiento, COTUCO Mexicali/San Felipe, Cruz Roja Mexicana, Corporate Helicopters, McKenzie's Performance Products, Advanced Color Graphics.
Tijuana SCORE Desert Challenge Special Partners: XXII Ayuntamiento de Tijuana, Baja California Secretary of Tourism, Tijuana Comite de Turismo and Convenciones, Comite de Marcadotecnia Turistica, Asociacion de Hoteles del Noroeste.
For more information regarding SCORE, visit the official website of the SCORE World Desert Championship atwww.SCOREInternational.com