SCORE MEDIA CONTACT: Dominic Clark, dominiccnv@aol.com
April 20, 2017
Race to air on El Rey Network
SCORE International adds two vintage classes to the lineup
For November's Golden anniversary of the SCORE Baja 1000
Internationally televised point-to-point race to be held in Mexico, Nov. 14-18,
starting in Ensenada, Baja California and finishing in La Paz, Baja California Sur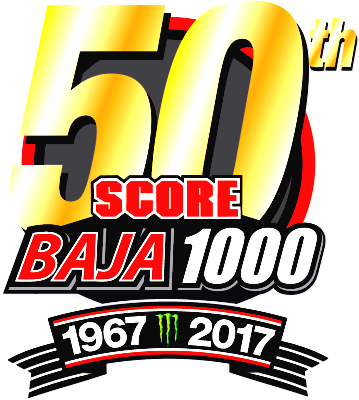 ENSENADA, Baja California, Mexico—Hoping to showcase some of the rich legacy of the world's oldest, longest and continuously held desert race, SCORE International has introduced two vintage car/truck racing classes for the Golden anniversary of the legendary SCORE Baja 1000.This year's iconic event will be a point-to-point race Nov. 14-18, starting in Ensenada, Baja California, Mexico and finishing in La Paz, Baja California Sur.
The two special classes will be based on the year they were originally manufactured. One vintage class will be for vehicles made from 1983 to 1992 and the other for those cars and trucks made 1982 and earlier. These vintage racing divisions will compete for the first time in a SCORE race. Plans call for modified sections of the total SCORE Baja 1000 race distance to assist these vintage classes in their quest to reach La Paz.
"The enthusiasm for these categories from the participating teams was the driving factor in the creation of these classes to allow them a venue to once again relive their former glory by participating in this globally known race event", stated Roger Norman, SCORE CEO/President.
Entries from 40 U.S. States and over 30 nations are expected to be part of this celebration of the Granddaddy of All Desert Races.
"These desert race cars and trucks were the building blocks from the earlier competition years that have contributed greatly in making the SCORE Baja 1000 reach this historic 50th Anniversary landmark race season," commented Jim Ryan, SCORE Sales and Marketing Director.
Details on specifications for each vintage class, and preliminary SCORE Baja 1000 event schedule will be released after the SCORE Baja 500 in June. Map of modified vintage course route will also be available when the complete SCORE Baja 1000 course map is released.
SCOREscope
The four-race 2017 SCORE World Desert Championship and for the second time all four are being held in Baja California, Mexico. Here is the 2017 SCORE World Desert Championship schedule:
31st SCORE San Felipe 250, March 29-April 2, San Felipe, Mexico
49th SCORE Baja 500, June 1-4, Ensenada Mexico
Rosarito Beach 21st SCORE Desert Challenge, Sept. 14-17, Rosarito Beach, Mexico
50th SCORE Baja 1000, Nov.14-18, Ensenada, Mexico to La Paz, Mexico
EL REY NETWORK
The four-race 2017 SCORE World Desert Championship in Baja California, Mexico along with the SEMA SCORE Baja 1000 Experience/SCORE Baja 1000 Qualifying in Las Vegas will all air on El Rey Network in the United States. International distribution is by way of syndication. The season-ending 50th SCORE Baja 1000 will have a two-hour show produced while the other race shows will each be one-hour telecasts.
El Rey Network is a 24-hour, English-language lifestyle network targeting "Strivers," viewers who hold strong core beliefs about the importance of family, independence, hard work, craftsmanship, and legacy.
Founded by maverick filmmaker Robert Rodriguez, and curated by Rodriguez and his artistic collective, the network features action-packed programming, relatable heroes and aspirational stories that embrace today's America. El Rey's slate is anchored by signature series including the original drama "From Dusk Till Dawn: The Series," the one-on-one interview program "El Rey Network Presents: The Director's Chair," and "Lucha Underground," a lucha libre wrestling series produced by Mark Burnett.
El Rey Network's lineup also showcases a wide range of iconic feature films and television series including genre, action, and sci-fi/ horror. El Rey Network LLC is jointly owned by Robert Rodriguez and FactoryMade Ventures, with a minority stake held by Univision Networks & Studios, Inc.
El Rey Network is available in 45 million homes across the country through cable and OTT providers and via satellite on DirecTV Channel 341 and Dish Network Channel 253. For more information on how to watch El Rey visit http://elreynetwork.com.
SCORE SPONSORS…
Official SCORE Sponsors: BFGoodrich Tires-Official Tire, Monster Energy-Official Energy Drink, King Shocks-Official Shock Absorber, RACELINE Wheels-Official Wheel, Axial R/C-Official R/C Vehicle, El Rey Network-Official Television Partner, Wide Open Excursions-Official Arrive and Drive Company, Crystal Bay Casino-Official Casino.
SCORE Official Partners: PCI Race Radios, 4 Wheel Parts, Coca Cola, The Satellite Phone Store, Satellite Del Norte, Instant Mexico Auto Insurance, CETTO Vineyards.
Additional SCORE Associate Partners: Proturismo Ensenada, Baja California Secretary of Tourism, Baja California Sur State Government, Baja California Sur Secretary of Tourism, Mexicali Ayuntamiento, COTUCO Mexicali/San Felipe, Cruz Roja Mexicana, Corporate Helicopters, McKenzie's Performance Products, Advanced Color Graphics.
Rosarito Beach SCORE Desert Challenge Special Partners: Ayuntamiento de Playas de Rosarito, Cotuco de Playas de Rosarito, Comite de Mercadatecnia Playas de Rosarito.
For more information regarding SCORE, visit the official website of the SCORE World Desert Championship at www.SCOREInternational.com.