SCORE MARKETING & SALES CONTACT: Jim Ryan, Jim@score-international.com
SCORE MEDIA CONTACT: Dominic Clark, dominic@score-international.com
September 22, 2020
Also: Racer's Communications Buyers Guide
September SCORE Journal spotlights six top racers for 2020;
'20 ORMHoF inductees include Mears, Johnson, Wells, Foddrill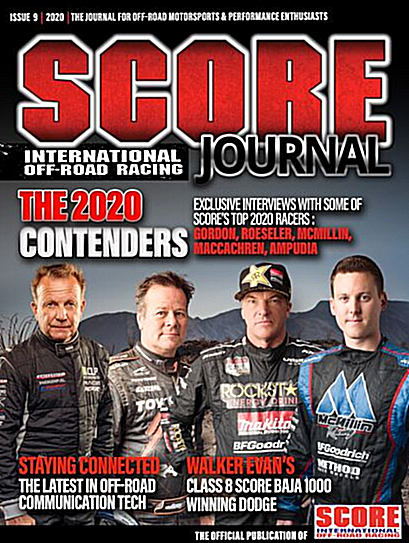 Vol. 6, No. 9 airing 'LIVE' at www.score-international.com; SCORE Journal includes
in-depth coverage of SCORE Int'l, SCORE World Desert Championship, industry
    ENSENADA, Baja California, Mexico — September's issue of SCORE Journal is honored to showcase in words, images and videos the six top racers in the 2020 SCORE World Desert Championship along with the inductees in the 2020 class of the Off-Road Motorsports Hall of Fame.
A tribute to Walker Evans' iconic 1978 Dodge Ram and the annual SCORE Race Communications Buyer's Guide are also in the spotlight in this month's Vol. 6, No. 9 of the critically-acclaimed SCORE Journal digital online magazine that is now available online in both English and Spanish.
Full of interactive news and feature stories, the issue is now live on the SCORE website at www.score-international.com and is available through SCORE social media channels as well as a direct link at http://read.uberflip.com/t/183537-score-journal.
In this colorful 86-page edition, besides the racer previews, the ORMHoF Class of 2020 and the annual SCORE Race Communications Guide, this issue includes a wonderful tribute story to the legendary Walker Evans' 1978 Dodge Ram truck along with the 2021 model lineup from Polaris.
WELCOME
"Our September SCORE Journal highlights several top racers currently competing in SCORE racing as well as our salute to the seven new inductees into the Off-Road Motorsports Hall of Fame," said Jim Ryan, SCORE Marketing and Sales Director and publisher of the SCORE Journal. "This issue also has a look back at Walker Evans' 1978 Dodge Ram race truck, an icon of desert racing history."
"Besides our annual SCORE Race Communications Buyer's Guide, this month's SCORE Journal also has a breakout story on understanding the basics of Off-Road Communication Systems and a look at the 2021 model lineup for Polaris."
INSIDE VOL. 6, NO. 9
Vol. 6, No. 9 of the SCORE Journal is once again filled with numerous interesting worth-reading features, stories, captivating images, exciting videos and several news items.
SCORE STARS OF TODAY
The major lead spread in September's SCORE Journal is all about the six of the stars of SCORE in 2020—Alan Ampudia and his brother Aaron, Luke McMillin, Rob MacCachren, Robby Gordon and Larry 'Mr. Baja' Roeseler.
ORMHoF INDUCTEES
Leading the seven-person group of 2020 inductees into the Off-Road Motorsports Hall of Fame are former SCORE stars Roger Mears and Jack Johnson along with team owner Cal Wells III and chassis builder Danny Foddrill.
Also being inducted are Bob Bower, Tom White and Dean Bulloch.
Current plans call for the elaborate celebration dinner and induction to be held in the Spring of 2021 at the South Point Hotel in Las Vegas
MORE CONTENTS
The current issue also salutes Walker Evans' 1978 Dodge Ram truck, a look at El Dorado Ranch which is hosting the start/finish area for Saturday's 52nd BFGoodrich Tires SCORE Baja 500, presented by 4 Wheel Parts and welcome letter to SCORE from the Mayor of Mexicali.
The September issue of the SCORE Journal also includes the extensive annual SCORE Race Communications Buyer's Guide, a review of several products from a large variety of companies.
There are also features on Overlanding Tent Equipment, another on the impressive 2021 models from Polaris and another on the Ram 1500 TRX off-road truck.
The Off-Road Marketplace in this issue continues to shine brightly on the latest new products for racers and enthusiasts.
SCORE JOURNAL
The SCORE Journal, launched in 2015, is published as 12 monthly online digital magazines, which includes four print editions that are available as the SCORE race programs at the races that comprise the SCORE World Desert Championship along with another print edition for the annual SCORE Awards Night.
The SCORE Journal Monthly Digital Magazine features exclusive editorial, enhanced race action videos, expanded and interactive race coverage, interactive product reviews, insider interviews with drivers, tech stories, driver and team profiles, race narratives and analysis, exclusive long and short form video programming, race results, updated stats, studio photography, class overviews, unmatched access to SCORE's historical archives and much, much more.
CLIMBING HIGHER
The SCORE Journal digital magazine, reaching an average of nearly 2 million unique viewers per issue, 62,120,121unique page views with an average engagement time of over 27 minutes is a major element in the continuing media expansion that SCORE has implemented. The continually revamped SCORE website also generates an average of over 2 million monthly unique viewers.
SPECIAL NUMBERS
The SCORE Journal digital magazine's October 2019 (SCORE Baja 1000 preview) issue delivered a record 2.89 million unique viewers/readers. The Spanish version of that SCORE Journal issue recorded over 502,000 unique viewers/readers.
The SCORE website for the race week of the 52nd SCORE Baja 1000 in November of last year had a record 2.7 million unique viewers. The increase was fueled by the expanded live tracking, live streaming, the Weatherman audio feed and race info updates.
During race week for last year's SCORE Baja 1000, SCORE Facebook generated 537,609 views and the SCORE App had 552,443 total sessions in that window.
And the SCORE Journal's March 33rd SCORE San Felipe 250 (2019) preview issue was viewed by 1,810,444 unique viewers and our Spanish language edition of the SJ generated over 190,000 unique viewers.
EN ESPANOL!
The SCORE Journal features a Spanish language edition of the magazine on the SCORE website. Spanish-speaking individuals represent nearly 20% of the SCORE Journal unique reader base. The link may be viewed on the menu of the SCORE Journal Magazine tab on the SCORE Website. The Spanish language version of the SCORE Journal will be posted within the week of the English version.
SCORE SPONSORS…
Official SCORE Sponsors: BFGoodrich Tires-Official Tire and Race Title Sponsor, Monster Energy-Official Energy Drink, 4 Wheel Parts-Official Off-Road Retailer and Race Presenting Partner, Ford-Official Truck and SUV, King Shocks-Official Shock Absorber, Polaris RZR-Official UTV, RACELINE Wheels-Official Wheel, VP Racing Fuels-Official Fuel, Wide Open Excursions-Official Arrive and Drive Company, Crystal Bay Casino-Official Casino.
SCORE Official Partners: PCI Race Radios, The Satellite Phone Store, Instant Mexico Auto Insurance, Lucerna Hotel.
Additional SCORE Associate Partners: Baja California Secretary of Sustainable Economy and Tourism, XXIII Ensenada Municipal Government, XXIII Mexicali Municipal Government, Mexicali and San Felipe COTUCO, Cruz Roja Mexicana.
For more information regarding SCORE, visit the official website of the SCORE World Desert Championship at www.score-international.com.