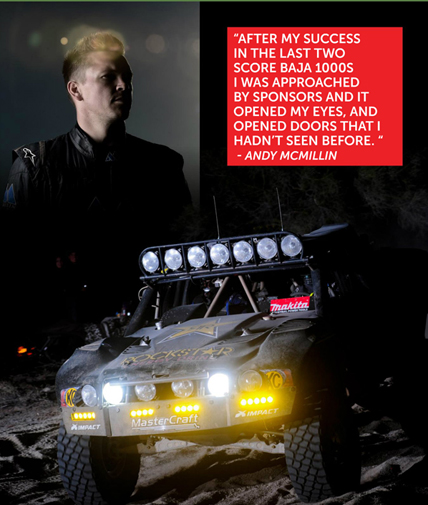 THE PENTAGON
2016 will be the 49th running of the SCORE Baja 1000. Until last year, only Mark McMillin and Larry Ragland had managed to win the race five times in a car or truck. But that all changed in 2015 when 28 year old Andy McMillin (Mark's nephew) won the race for the second consecutive year. Driving with Rob MacCachren in 2015, he became the newest and the only third member of the "Five Timers Club," racers who have won the SCORE Baja 1000 five times.
Andy McMillin is part of the third generation of the McMillin family of off-road racers, and got his start riding with his dad Scott McMillin, prerunning when he was just two years old. He demonstrated he had what it took to win after McMillin became the youngest overall winner of the SCORE Baja 1000 in 2006 racing with Robby Gordon. He then followed that up with overall wins in 2009 and 2011 racing with his dad, and won again with a back-to-back victory with Rob MacCachren in 2014 and 2015.
In between these SCORE wins, McMillin also won six out of seven major races overall in 2009, and continued winning into 2012. In 2013 he took a step back from his own race program, content to race other driver's trucks and keep a low profile. In 2016 McMillin has thrust himself back into the thick of it, racing a new Trophy Truck as the Driver of Record. We sat down with McMillin to talk about his career and his expectations for another SCORE Baja 1000 victory in the future.