SCORE MEDIA CONTACT: Dominic Clark, dominiccnv@aol.com
October 1, 2016
Nov. 16-20 race dates
Course map unveiled for 49th annual SCORE Baja 1000
at colorful SCORE Baja 1000 exhibit at Off-Road Expo
SCORE Baja 1000 exhibit open Sunday in SoCal's Fairplex in Pomona to salute SCORE Baja legends
POMONA, Calif., USA—Another radically rugged race route of approximately 830 miles for the granddaddy of all desert races was unveiled Saturday at the SCORE Baja 1000 exhibit area in Building 5 at the Lucas Oil Off-Road Expo at the Fairplex in Pomona, Calif. The popular consumer show will be open Sunday from 9 a.m. to 5 p.m. (PT).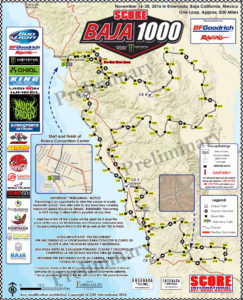 CLICK HERE FOR FULL MAP
RACE INFO
The season finale of the four-race 2016 SCORE World Desert Championship is expecting nearly 250 entries, from 25 countries and 40 U.S. States to compete in classes for cars, trucks, UTVs, motorcycles and quads in this year's 49th annual SCORE Baja 1000. The race week festivities will cover Nov. 16-20, with the race and all side events starting and finishing in Ensenada, Baja California, Mexico.
Entry registration for the race is available online at RegisterHereForRace. The drawing for starting positions for all classes, except the featured SCORE Trophy Truck, unlimited Class 1 and Trophy Truck Spec will be held Thursday, Oct. 13. To be included in the drawing, entries must registered online by 10 p.m. PT on Wednesday, Oct. 12. Entries received after the drawing will be given the next available starting position within their respective classes.
RACE QUALIFYING
SCORE Trophy Truck, the marquee SCORE racing division for high-tech, 850-horsepower, unlimited production trucks, Class 1 open-wheelers and the Trophy Truck Spec class will have a special qualifying session for start positions on Tuesday, Nov. 1 on the Off-Road Track at the Las Vegas Motor Speedway. The three top SCORE racing classes will be featured that week in the massive SEMA SCORE Baja 1000 Experience during the SEMA Show at the Las Vegas Convention Center.
OFF-ROAD EXPO MEET & GREETS
Crowd favorite autograph sessions took place on Saturday and will again on Sunday featuring many of the stars of the sport, both past and present who have built their legacy in the SCORE Baja 1000. Additional highlight of the SCORE Baja 1000 exhibit is the SCORE Monster Energy Cinema, featuring SCOREvision, massive LED screen showing race telecasts that have aired on the CBS Sports Network as well as historical race videos that are part of the legendary legacy of SCORE Baja racing.
Among the legends, past and present, scheduled to appear at Sunday's 12:30 to 2 p.m. PT SCORE Baja 1000 autograph session are SCORE owner Roger Norman, Ivan 'Ironman' Stewart, Larry Roeseler, Rob MacCachren, B.J. Baldwin, Bryce Menzies, Colton Udall, Mark Samuels, Cameron Steele and Heidi Steele. SCORE expects some other 'surprise' SCORE Baja racing legends as well for the two autograph sessions.
TROPHY CASE
The SCORE Baja 1000 Exhibit at the Off-Road Expo includes multiple vehicle displays as well. Among the vehicles on display are the Roger Norman's SCORE Trophy Truck, Rugged Radio's Class 11 VW Sedan, CLP Motorsports Safecraft Polaris RZR XP1000 UTV and Colton Udall's 1x Honda CRF450X motorcycle.
WHAT A COURSE!
As it has for over four decades, SCORE has put together another memorable race course, this one for a loop race, with all of the foreboding, unforgiving terrain that the northern state of the majestic Baja California peninsula has to offer. SCORE CEO/President Roger Norman and SCORE Race Director Jose A. Grijalva have designed and finalized this year's race course.
Starting and finishing in the heart of Ensenada in front of the historic Riviera del Pacifico Cultural Center, the course travels in a counter-clockwise direction. It includes the approximate 20 mile stretch to Ojos Negros which is used in both directions. Outgoing, the course heads south from Ojos Negros through Santo Tomas and then runs along the picturesque Pacific Ocean for over 100 miles and then back across to the center of Baja California Norte.
The approximately 830-mile course covers both sides of the peninsula and includes four checkpoints.
The race will have its normal start from Ensenada to Piedras Gordas, then out to highway 3 around Rm 20.7 and will go to Km33 and get back on the dirt. The course will go past Rancho Grijalva to El Mezcal and head to Uruapan using La Lagrima Rd, a different road than in past years.
From Santo Tomas, the course heads to the coast of the Pacific Ocean and runs down to San Quintin, Nuevo Odisea and then to El Rosario. The course will travel up the well known hill La Vivora, el Arenoso, and will loop around from San Juan de Dios at approximate Rm305 to El Metate Rm 340, Los Martires Rm 363 and go back to San Quintin on the east side of the highway and run north to Col. Vicente Guerrero, Jaramillo and Colonet.
The course will travel a new route from Colonet to Llano Colorado and across to Valley de Trinidad. The race course goes along the highway from San Matias to Villa del Sol then crossing the highway at El Chinero, north to Coabuso Junction and then climb up the summit in the opposite direction as previous races from the desert to Nuevo Junction and on to Catarina. From Catarina, it will be back to Ojos Negros and from Ojos Negros back to the finish line.
The four checkpoints will be located at Santo Tomas (CP 1–race-mile 87), El Rosario (CP 2–rm249), Vicente Guerrero (CP 3–rm457) and Nuevo Junction (CP 4–rm730).
Pre-running will open on Saturday, October 29, allowing competitors nearly three weeks of practice time on the official race course.
MORE EXPO INFO
The 2016 Lucas Oil Off-Road Expo is once again the largest and greatest collection of off-road companies, parts, equipment, gear, and experts assembled in America. From off-road racing to rock crawling, trail riding to sand sports, motorcycles to quads and camping to adventure travel, the event provides the unique opportunity to meet and talk with the most knowledgeable people in the off-road industry. With a full weekend of excitement, other event features include over 325 industry-specific vendors, the Lucas Oil Off-Road Racing Demo at the MAV TV Proving Grounds, Rubicon Trail – Off Road Vehicle Ride Along, O'Reilly Auto Parts Show-N-Shine, DragonFire Racing ride along, the Miss Off-Road Expo Contest and live music all weekend at the Bud Light Entertainment Stage.
CBS SPORTS NETWORK COVERAGE
All races in the four-race 2016 SCORE World Desert Championship, along with the special SEMA SCORE Baja 1000 Experience and qualifying for the SCORE Baja 1000 from Las Vegas Motor Speedway are once again airing in the USA and Canada on the CBS Sports Network. The spectacular shows feature not only SCORE Trophy Truck coverage, but also top action and highlights from many other classes of trucks, cars, UTVs, motorcycles and quads – making sure that the most exciting footage and most compelling stories continue as part of each race event broadcast.
Capping off the 2016 broadcast season, the SCORE Baja 1000 broadcast on CBS Sports Network will air as a full two-hour special for the second straight year.
ON THE AIR
2016 CBS Sports Network Original Broadcast Schedule (subject to change, check local listings)
· SCORE San Felipe 250 (first telecast-Sunday, April 17, 9 p.m. ET)
· SCORE Baja 500 (first telecast-Sunday, July 24, 9 p.m. ET)
· Rosarito Beach SCORE Desert Challenge (first telecast-Sunday, Nov. 13, 9 p.m. ET)
· SCORE Baja 1000 Qualifying @SEMA SCORE Baja 1000 Experience (first telecast-Sunday, Dec.18, 9 p.m. ET)
· SCORE Baja 1000 (two-hour special) (first telecast-Sunday, December 25, 9 p.m. ET)
CBS SPORTS NETWORK
CBS Sports Network is available across the country through local cable, video and telco providers and via satellite on DirecTV Channel 221 and Dish Network Channel 158. For more information, including a full programming schedule and how to get CBS Sports Network, go to www.cbssportsnetwork.com.
SCOREscope
The four-race 2016 SCORE World Desert Championship includes four special events and for the first time all four are being held in Baja California, Mexico. Here is the complete 2016 SCORE World Desert Championship schedule:
· 30th SCORE San Felipe 250, Feb. 25-28, San Felipe, Mexico
· 48th SCORE Baja 500, June 1-5, Ensenada Mexico
· Rosarito Beach 20th SCORE Desert Challenge, Sept. 14-18, Rosarito, Mexico
· 49th SCORE Baja 1000, Nov.16-20, Ensenada, Mexico
SCORE SPONSORS…
Official SCORE Sponsors: Bud Light-Official Beer, Monster Energy-Official Energy Drink, BFGoodrich Tires-Official Tire, King Shocks-Official Shock Absorber, Vision Wheel – Official Wheel, Axial R/C-Official R/C Vehicle, Muck Daddy-Official Hand Cleaner, CBS Sports Network-Official Television Partner, Wide Open Excursions- Official Arrive and Drive Company, Crystal Bay Casino-Official Casino.
Official SCORE Partners: 4 Wheel Parts, Coca Cola, The Satellite Phone Store, PCI Race Radios.
Additional SCORE Partners: Proturismo Ensenada, Visit Baja California Sur, Baja California Secretary of Tourism, Mexicali Ayuntamineto, COTUCO Mexicali/San Felipe, Cruz Roja Mexicana, Corporate Helicopters, Instant Mexico Auto Insurance, McKenzie's Performance Products, Advanced Color Graphics.
Rosarito Beach SCORE Desert Challenge Special Partners: Vi Ayuntamiento de Playas de Rosarito, Cotuco de Playas de Rosarito, Comite de Mercadatecnia Playas de Rosarito, Baja California Secretary of Tourism.
For more information regarding SCORE, visit the official website of the SCORE World Desert Championship at www.SCORE-International.com.