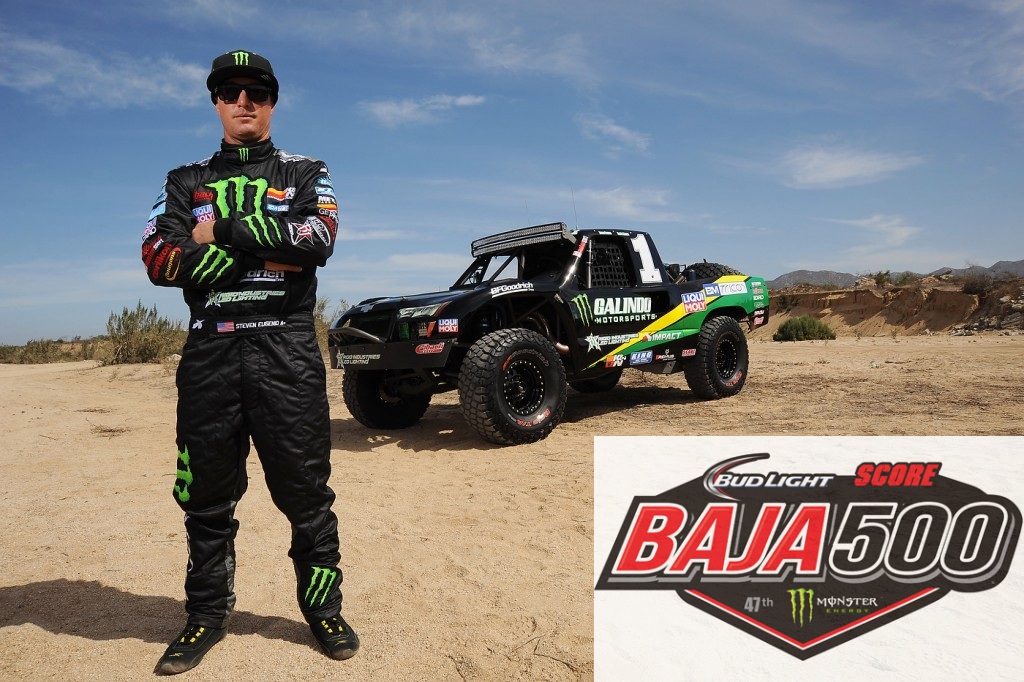 [su_dropcap]S[/su_dropcap]teven Eugenio, SCORE's 2014 Overall Defending Champion, and teammate Armin Schwarz did not win the 2015 Bud Light SCORE BAJA 500 this year, but the teammates still managed to pull off a major victory.
Eugenio and Schwarz finished eighth overall, 25 minutes behind this year's overall champion, Apdaly Lopez. But Eugenio, on his 35th birthday no less, won the coveted SCORE portion of the Dakar Challenge.
Eugenio beat out five other drivers to win the Dakar Challenge, earning himself and teammate Armin Schwarz, free entry into the 2016 Dakar Rally.
Free entry includes sports dues for the driver, co-driver, and race vehicle, as well as return sea transport, limited catering, GPS tracking and more.
Eugenio beat out five other Dakar Challenge hopefuls in this year's Baja 500 field – Casey Curry, Eric Hustead, Shane Sculley, Robert Acer and 2014 Baja 500 Overall Champion Bryce Menzies, last year's SCORE Dakar Challenge winner.
The 2016 Dakar Rally will take place in Peru, Bolivia, and Argentina, and is an annual rally style off-road race, organized by Amaury Sport Organization (A.S.O.).
The Dakar Rally began in 1978 as a race from Paris to Dakar, Senegal.
In 2009, the Rally started and finished in Argentina, and traveled across various parts of South America covering a distance of more than 3,000 miles over a two-week period.
[su_lightbox src="https://youtu.be/QvGDxS9W51A"][su_button] Robby Gordon and Johnny Campbell action in the 2015 Dakar Rally. [/su_button][/su_lightbox]