SCORE MEDIA CONTACT: Dominic Clark, dominiccnv@aol.com
September 26, 2016
Full recovery expected
Former SCORE owner Sal Fish resting comfortably
following open-heart surgery Monday in Los Angeles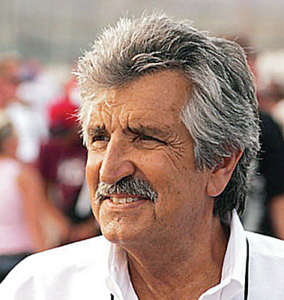 LOS ANGELES, Calif., USA—Sal Fish, the visionary, pioneering former owner of the SCORE International desert racing organization that he was part of for four decades is resting comfortably according to family members following extensive open-heart surgery on Monday at Cedars-Sinai Medical Center in Los Angeles.
While he is in the intensive care unit at the hospital for an undetermined amount of time, medical personnel reported to family members that the lengthy five and one-half hour operation was successful and that a complete recovery is expected.
"While this was non-emergency surgery that Sal planned in advance, it was a very serious and obviously a very lengthy operation," said Paul Fish, Sal Fish's nephew and former SCORE Vice-President. "The operation achieved what the doctors had hoped for in replacing a leaking aortic valve and vessel, as well as performing a single artery bypass."
Fish, who turned 77 years old on May 2, was part of SCORE from 1974 until he sold the world's foremost desert racing organization to current owners Roger and Elise Norman on Dec. 20, 2012.
"All of us in the SCORE family thank God, are relieved and pleased with the results of Sal's surgery and we wish him a speedy and complete recovery," commented Norman, a former champion SCORE Trophy Truck racer. "We look forward to having him wave the green flag as the grand marshal at one of the SCORE Baja races that have meant so much to him personally and to all of us in the sport he loves so passionately."
Easily one of the most recognizable and impactful figures in the history of desert racing, Fish created the marquee SCORE Trophy Truck division for high-tech, 850-horsepower unlimited production trucks in 1994, developed a rule book for the sport that was used by numerous racing organizations for over 30 years and helped bring international television to SCORE, the motorsport that is the hardest to cover for broadcast purposes.
Living in Malibu, Calif., with his wife of over 40 years Barbara Fish, the personable Sal Fish received numerous accolades over his long and prestigious career. At the top of the list of his awards was being voted into the Off-Road Motorsports Hall of Fame in 2006.
The long path that took Fish to the top of the desert racing sport began on May 2, 1939, when he was born in Los Angeles. He was educated in parochial schools — Transfiguration Grammar School and Loyola High, where he was class president three years — and earned an industrial relations degree at the University of San Francisco.
Paul Fish has indicated that the family will provide periodic updates during his uncle Sal's recovery and rehab which doctors have said will take up to four months.