SCORE MEDIA CONTACT: Dominic Clark dominiccnv@aol.com
January 10, 2019
2018 SCORE World Desert Championship
LIVE streaming Saturday at www.SCORE-International.com
for SCORE Awards Night at iconic San Diego Air & Space Museum
Honoring 9 SCORE Off-Roadsman of the Year award winners, 5 manufacturer point titlists,
2018 SCORE Pro & Sportsman class point champs, 43 2018 SCORE Milestone Award winners;
    SAN DIEGO, California, USA—With a crowd of nearly 600 racers, crews, sponsors and VIPs anticipated, SCORE International has announced that Saturday's 2018 SCORE Awards Night in San Diego will be streamed LIVE on the SCORE website at www.SCORE-International.com.
     SCORE International will celebrate the four-race 2018 SCORE World Desert Championship at the popular San Diego Air & Space Museum at the historic Balboa Park.
     A pre-awards reception will start the festivities at 6 p.m., followed by the dinner at 7 p.m. and presentations starting at 7:30 p.m.
     This will be the second time and second straight year that the annual SCORE Awards Night will be held at the San Diego Air & Space Museum and the 10th time the historic evening will be held in Southern California since 2000. The event celebrates the World's Foremost Desert Racing Organization that completed its 45th season in November.
MIC MEN
     Emcees for the evening and hosts of the live streaming of the celebration will be SCORE Live announcer Rat Sult and SCORE Trophy Truck champion racer and TV action sports announcer Cameron Steele.
EARLY ENTRY
     Guests at the event will be allowed to enter the museum at 5:30 p.m. to view the numerous historical displays at the popular facility prior to the start of the reception at 6 p.m.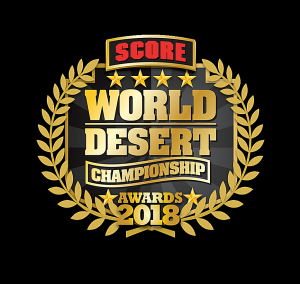 AWESOME AWARDS
     In addition to the special SCORE Achievement Awards and the Pro and Sportsman classes that qualified racers for class season championships along with five overall point champions who will be honored. Another highlight of the evening will be the presentation of the annual SCORE Off-Roadsman of the Year Awards.
     Individuals as well as manufacturers and organizations are honored through nine distinct SCORE Off-Roadsman of the Year Awards, whose winners were decided by several thousand SCORE fans through online voting including the entire SCORE membership of more than 2,500. Among the awards to be presented are SCORE Rookie of the year, SCORE Contingency Company of the year, SCORE Pit Support Team of the year, SCORE Mechanic of the year and SCORE Person of the year. Voting closed on Dec. 28 and winners will be announced at the event.
MANUFACTURER POINT CHAMPS
     The 2018 Manufacturer point champions to be honored as well are Alumi Craft (Original Open-Wheel Chassis), Kroyer Racing Engines (Engine Builder), Geiser Brothers (Original Truck Chassis), Polaris (UTV) and KTM (Motorcycle).
SCORE MILESTONE AWARDS
     Another element of the diverse program for the evening will be the presentation of the 2018 SCORE Milestone Awards.  As it has for 33 years, the coveted SCORE Milestone Awards are presented to those racers who finish every required mile of the 2018 SCORE World Desert Championship. A total of 43 racers completed all 1,802.68 required miles in the four-race 2018 SCORE World Desert Championship.
TRIBUTE
     The evening will include a colorful video/photographic tribute to the 2018 SCORE World Desert Championship produced by BCII TV, SCORE Live and GetSomePhoto.
25 YEARS OF SCORE Trophy Truck
     Another showcase element of the evening will be a salute to the first 25 years of the marquee SCORE Trophy Truck division for high-tech, 950-horsepower unlimited custom trucks.  The featured racing division in the sport was created by then SCORE owner Sal Fish and launched in 1994. A total of 16 different racers have combined to earn the season point championship of the class in its first 25 years.
     Las Vegas Hall of Fame racer Rob MacCachren won the first season title in 1994 persevered to win it again in 2018 and also was the second driver for Mark Post in their 2007 championship season. MacCachren also is the winningest all-time SCORE Trophy Truck driver with a SCORE-record 17 career SCORE Trophy Truck race wins.
SCOREscope
2019 SCHEDULE
     Here is the four-race 2019 SCORE World Desert Championship and for the fourth consecutive year all races are being held in Baja California, Mexico:
33rd SCORE San Felipe 250, April 3-7, San Felipe, Mexico
51st SCORE Baja 500, May 29-June 2, Ensenada, Mexico
Inaugural Lucerna SCORE Baja 400, Sept. 18-22, Ensenada, Mexico
52nd SCORE Baja 1000, Nov.19-24, Ensenada, Mexico
TV TIME
     SCORE races in 2018 are airing on the El Rey Network domestically and around the globe on ESPN International and syndication. The season-ending SCORE Baja 1000 will air as a two-hour race coverage special. It is scheduled to air on ERN on Sunday, Feb. 24.
     El Rey Network is a 24-hour, English-language lifestyle network and is available in 45 million homes across the country through cable and OTT providers and via satellite on DirecTV Channel 341 and Dish Network Channel 253. For more information on how to watch El Rey visit http://elreynetwork.com.
SCORE SPONSORS…
     Official SCORE Sponsors: BFGoodrich Tires-Official Tire and official race title sponsor, Monster Energy-Official Energy Drink, King Shocks-Official Shock Absorber, Polaris RZR-Official UTV, RACELINE Wheels-Official Wheel, VP Racing Fuels-Official Fuel, Lucerna Hotels & Resorts-Official Hotel and official race title sponsor, Wide Open Excursions-Official Arrive and Drive Company, Crystal Bay Casino-Official Casino.
     SCORE Official Partners: PCI Race Radios, 4 Wheel Parts, The Satellite Phone Store, Satellite Del Norte.
     Additional SCORE Associate Partners: Proturismo Ensenada, Baja California Secretary of Tourism, Mexicali Ayuntamiento, COTUCO Mexicali/San Felipe, Cruz Roja Mexicana, Corporate Helicopters, McKenzie's Performance Products, Advanced Color Graphics.
     Lucerna Hotels & Resorts 22nd Tijuana SCORE Desert Challenge Special Partners: XXII Ayuntamiento de Tijuana, Baja California State Secretary of Tourism, Comite de Turismo and Convenciones, Comite de Marcadotecnia Turistica, Lucerna Hotels and Resorts, Asociacion de Hoteles del Noroeste.
     For more information regarding SCORE, visit the official website of the SCORE World Desert Championship atwww.SCOREInternational.com.