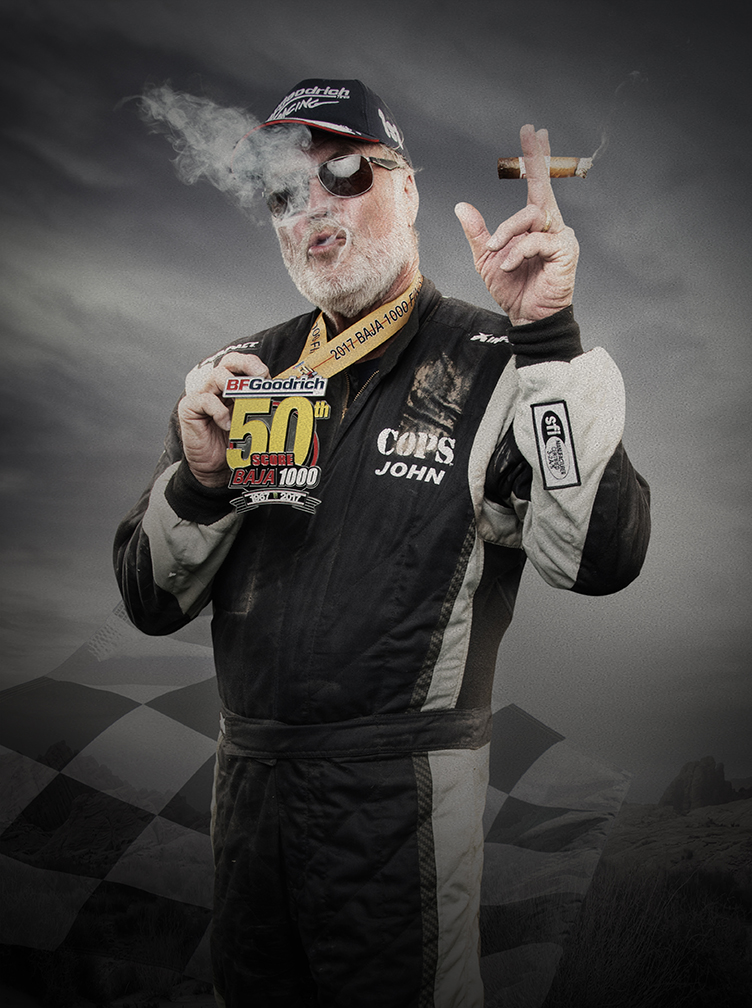 photo by Jack Wright / nMedia3.com
We are all grieved to learn of the passing on Saturday, June 26, of champion desert racer John Langley. He passed from an apparent heart attack while racing with his son Zak in a local desert race in Baja California, Mexico.
The creator of 'Reality TV' with his long-running COPS television show, Langley, 78, lived life to the fullest and started desert racing in a huge way in 2008 with his vastly popular COPS Racing Team.
An American television and film director, writer, producer and Hollywood icon, Langley was a champion desert racer even though he didn't start his desert racing until was 67 years old.
His COPS TV show ran for 32 seasons and produced over 1,000 episodes, but for the people of Baja California and entire desert racing community he was known as 'Papa John' the affable philanthropic personality who campaigned at least three, four and sometimes five race vehicles in the SCORE World Desert Championship.
During his more than a decade of racing with SCORE, he won the Class 4 season point championship in 2010 after winning his class in that year's SCORE Baja 1000.
His crowning victory was in 2017 when he teamed with Steve Hengeveld and Kash Vessels to win the Trophy Truck Spec class in the 50th anniversary of the legendary SCORE Baja 1000 race from Ensenada to La Paz.
In 2011 Langley was honored with a star on the Hollywood Walk of Fame.
Born in Oklahoma City, Langley served in the intelligence unit of the U.S. Army in the early 1960s before graduating Cal State Dominguez Hills and attending U.C. Irvine for grad school.
COPS racing was a family team with his son Zak racing in SCORE Trophy Truck and his other son Morgan driving in the unlimited Class 1.
Morgan oversees Langley Productions and is an executive producer of COPS. Zak is the team manager of COPS Racing.
Surviving him are his wife Maggie, sons Morgan and Zak, daughters Sarah Langley Dews and Jennifer Blair, as well as seven grandchildren.
John Langley will be missed by the entire desert racing community, especially in Baja California.