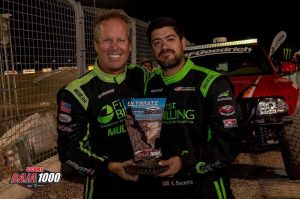 SCORE MEDIA CONTACT: Dominic Clark, dominiccnv@aol.com
October 31, 2018
Gordon third fastest
Team C's Connor edges L. McMillin for Ultimate Dana Fast Qualifer spot
for 51st SCORE Baja 1000 at Las Vegas Motor Speedway Off-Road Track
co-driver and Supercross legend Ricky Johnson tops qualifying field for driver of record Connor,
part of SEMA SCORE Baja 1000 Experience, presented by BFGoodrich Tires,
through Friday at Las Vegas Convention Center;
Race & race-week festivities Nov. 12-18 for 806.76-mile race in Mexico's Baja California Norte;
online racer registration ends Wednesday, Nov. 7 at 8 p.m. PT at www.score-international.com
     LAS VEGAS, Nevada, USA—Helped by a huge assist from Supercross Hall of Fame legendary co-driver Ricky Johnson, Team C Racing's Larry Connor has earned the first starting position in the featured SCORE Trophy Truck division for next month's 51st annual SCORE Baja 1000.
     The special SCORE Baja 1000 Qualifying, presented by BFGoodrich Tires was held on a purpose built, very technical .6-mile course that started and finished on the Off-Road Track at the Las Vegas Motor Speedway.
     The iconic Granddaddy of All Desert Races itself will start and finish in Ensenada, Baja California, Mexico. This year's SCORE Baja 1000 race-week festivities and race will be held Nov. 12-18. The race is the season-finale of the four-race 2018 SCORE World Desert Championship.
     In front of an appreciative capacity crowd at the LVMS Off-Road Track on Tuesday night, Johnson, who won 38 Supercross races and seven AMA season championships in his Hall of Fame motorcycle career, blistered the dirt and asphalt covering two laps of the .6-mile course in one minute, 51.92 seconds with an average speed of 38.57 miles per hour in Connor's No. t Team C Racing Chevy Silverado. He ran laps of 58.69 seconds and 43.23 seconds. His second lap was the fastest of the night.
      Johnson was quickest among the 30 trucks out of the 37 entered in the race that elected to participate in the optional qualifying event.
ULTIMATE DANA FAST QUALIFIER AWARD
      For the third straight year, international drivetrain manufacturer Dana Incorporated presented the Ultimate Dana Fast Qualifier award.
     Dana is also presented live streaming of the entire three-hour qualifying event from LVMS on the SCORE website.
     Winning the Ultimate Dana Fast Qualifier award in 2016 was Las Vegas' Mark Post and fastest last year was Robby Gordon, Charlotte, N.C. In 2015, Johnson was again the fast qualifier for driver of record Justin Matney.
     The 5,000-pound race trucks are designed for the pounding of open desert racing resulting in average speeds in qualifying 15-20 miles per hour less than they will average during the actual race.
     Johnson, driving Connor's SCORE Trophy Truck, finished 1.14 seconds faster than the runner-up qualifier as all of the top 14 qualifiers finished the course in less than two minutes.
     A total of 30 of the 37 SCORE Trophy Trucks entered in the race including three SCORE TT Legend race trucks participated in the optional qualifying for starting positions within their respective classes, which are combined for starting positions but scored separately at the conclusion of the race.
     SCORE Trophy Truck, developed and launched by former SCORE owner Sal Fish in 1994, is the marquee SCORE racing division for high-tech, 950 horsepower unlimited custom trucks and SCORE TT Legend, which debuted in 2017, is the SCORE Trophy Truck class-within-a-class with drivers at least 50 years old.
SEMA SCORE BAJA 1000 EXPERIENCE
     SCORE Baja 1000 Qualifying, presented by BFGoodrich Tires, is part of the massive celebratory SEMA SCORE Baja 1000 Experience, also presented by BFGoodrich Tires, that for the fifth straight year is a spotlight attraction through Friday during the popular annual SEMA Show trade gathering being held at the Las Vegas Convention Center.
TOP 5 QUALIFIERS          
     Behind Johnson, second in qualifying was Luke McMillin, San Diego, with a time of 1:53.05 in the No. 83 Mark Racing Ford F-150 and third was last year's top qualifier Robby Gordon, Charlotte, N.C., with a time of 1:53.52 in the No. 77 Team Gordon Chevy Silverado.
     Completing the top 5 qualifier list was Cole Potts, Scottsdale, Ariz. fourth in a time of 1:53.84 in the No. 60 Chevy Silverado and fifth was Las Vegas' Bryce Menzies with a time of 1:53.97 in his new No. 7 Menzies Motorsports Ford Raptor.
BAJA MIL
      Over 300 entries, from 36 U.S. States and 20 countries are expected to compete in this year's 51st anniversary celebration of the SCORE Baja 1000 which is revered worldwide as the Granddaddy of all Desert Races. Race week festivities and the race will be held Nov. 12-18 in Ensenada, Baja California, Mexico.
     The world's most iconic, oldest, prestigious and longest continuously held desert race, this year's SCORE Baja 1000 will be a loop race of 806.76 miles in the northern state of Mexico's majestic Baja California peninsula. It will start for the 44th time and finish for the 25th time in Ensenada. The race is annually the finale of the four-race SCORE World Desert Championship, which has been held exclusively for the past three years in Baja California. The start/finish line compound will once again be adjacent to the picturesque Bahia de Todos Santos one one side and to the historic Riviera del Pacifico Cultural Center.
     With a total time limit of 36 hours in the elapsed-time race, the motorcycle and quad classes will start at 4 a.m. (PT) on Friday, Nov. 16 and the car, truck and UTV classes will follow with their start on at 10:30 a.m. (PT) on Friday, Nov. 16. The fastest finishers are expected to complete the race in approximately 16 hours.
     Online racer registration continues until Nov. 7 and this year's course map, course notes and GPS files are available on the SCORE website under race info on the SCORE Baja 1000 page at www.SCOREInternational.com.
WHERE THEY'RE FROM
     To date for November's 51st SCORE Baja 1000, there are 235 total entries with racers from 36 U.S. States and 18 countries officially signed up to compete. In addition to the United States, the U.S. Territory of Guam and host country Mexico, the other countries with racers entered are Argentina, Australia, Austria, Belgium, Canada, Chile, Costa Rica, England, Finland, France, Germany, Italy, New Zealand, Peru, Spain and Sweden.
MORE NUMBERS
     Including SCORE Trophy Truck (37), seven total classes already have double figures in terms of entries so far. While several other classes have nearly reached at least 10 entries, the other classes with double figure entries to date are: Trophy Truck Spec (26), Pro UTV FI (Forced Induction) (25), Class 10 (16), unlimited Class 1 (14), Pro UTV NA (Naturally Aspirated) (12) and leading the Sportsman classes is SPT M/C with 13 entries so far.
EL GRAN JEFE—GRAND MARSHAL
     For this year's 51st SCORE Baja 1000, SCORE International has selected Mexico's beloved tourism official Nico Saad, the only person who has been behind the scenes at all 50 of the previous races, as the Grand Marshal for this year's anniversary of the world's most iconic desert race.
     Honorably humble, unusually unassuming, famously friendly by nature while constantly and consistently working diligently behind the scenes by choice on behalf of SCORE Baja racing for nearly 45 years, Saad is the revered owner of the San Nicolas Resort and extremely cherished and prolifically productive President of Proturismo de Ensenada. Saad is the only person who has been part of all 50 Baja 1000 events, obviously including the 44 produced and sanctioned by SCORE International.
2018 REMAINING SCHEDULE
51st SCORE Baja 1000, Nov.12-18, Ensenada, Mexico
2019 SCHEDULE
     Here is the four-race 2019 SCORE World Desert Championship and for the fourth consecutive year all races are being held in Baja California, Mexico:
33rd SCORE San Felipe 250, April 3-7, San Felipe, Mexico
51st SCORE Baja 500, May 29-June 2, Ensenada, Mexico
Inaugural Lucerna SCORE Baja 400, Sept. 19-23, Ensenada, Mexico
52nd SCORE Baja 1000, Nov.12-17, Ensenada, Mexico
TV TIME
     SCORE races are airing domestically on the El Rey Network and outside of the U.S. on ESPN International as well as syndication. The SCORE Baja 1000 race coverage show will be a two-hour special.
     El Rey Network is a 24-hour, English-language lifestyle network and is available in 45 million homes across the country through cable and OTT providers and via satellite on DirecTV Channel 341 and Dish Network Channel 253. For more information on how to watch El Rey visit http://elreynetwork.com.
SCORE SPONSORS…
     Official SCORE Sponsors: BFGoodrich Tires-Official Tire and official race title sponsor, Monster Energy-Official Energy Drink, King Shocks-Official Shock Absorber, Polaris RZR-Official UTV, RACELINE Wheels-Official Wheel, VP Racing Fuels-Official Fuel, Lucerna Hotels & Resorts-Official Hotel and official race title sponsor, Wide Open Excursions-Official Arrive and Drive Company, Crystal Bay Casino-Official Casino.
     SCORE Official Partners: PCI Race Radios, 4 Wheel Parts, The Satellite Phone Store, Satellite Del Norte.
     Additional SCORE Associate Partners: Proturismo Ensenada, Baja California Secretary of Tourism, Mexicali Ayuntamiento, COTUCO Mexicali/San Felipe, Cruz Roja Mexicana, Corporate Helicopters, McKenzie's Performance Products, Advanced Color Graphics.
     Lucerna Hotels & Resorts 22nd Tijuana SCORE Desert Challenge Special Partners: XXII Ayuntamiento de Tijuana, Baja California State Secretary of Tourism, Comite de Turismo and Convenciones, Comite de Marcadotecnia Turistica, Lucerna Hotels and Resorts, Asociacion de Hoteles del Noroeste.
     For more information regarding SCORE, visit the official website of the SCORE World Desert Championship atwww.SCOREInternational.com.
51st SCORE Baja 1000 SCORE Trophy Truck Qualifying
Presented by BFGoodrich Tires
Oct. 30, 2018—Las Vegas Motor Speedway Off-Road Track
Race Dates: Nov. 12-18, Season Finale of the 2018 SCORE World Desert Championship
Race Distance/Location:  806.76-mile loop race in Mexico's Baja California Norte
Race Start and Finish: Ensenada, Baja California
Race Participants: Over 300 total entries are expected from 36 U.S. States, one U.S. Territory and 20 countries with Pro and Sportsman classes for cars, trucks, UTVs, motorcycles and quads
 (NOTE: Entries that elected not to qualify will have a separate random drawing on Wednesday, Nov. 7, to determine their starting order and they will start after the vehicles that qualified in their respective classes.  For all of the other classes, the start order will be determined by finishing results from the SCORE Desert Challenge and a drawing for entries that did not race in Tijuana)
QUALIFYING RESULTS: (1.2 total miles, 2 laps of .6 mile dirt race course)
SCORE TROPHY TRUCK (29) (Unlimited Production Trucks) (37 Total Entries)
(Position, Vehicle number, qualifying driver/driver of record if different, hometown, vehicle, builder, elapsed time, miles per hour)
  ULTIMATE DANA FAST QUALIFIER—6 Ricky Johnson, 53, Trabuco Canyon, Calif. (DOR–Larry Connor, 68, Miamisburg, Ohio), Chevy Silverado (Mason), one minute, 51.92 seconds (38. 57 miles per hour)
83 Luke McMillin, 25, San Diego, Ford F-150 (Racer), 1:53.05
77 Robby Gordon, 49, Charlotte, N.C., Chevy Silverado (Custom), 1:53.52
60 Cole Potts, 19, Scottsdale, Ariz., Chevy Silverado (Racer), 1:53.84
7 Bryce Menzies, 31, Las Vegas, Ford Raptor (Huseman), 1:53.97
33 Dale Dondel, 53, Temecula, Calif.(DOR–Todd Tuls, 49, Bennington, Neb.), Ford Raptor (Racer), 1:54.12
11 Rob MacCachren, 53, Las Vegas, Ford F-150 (Geiser), 1:56.73
32 Ryan Arciero, 45, Lake Forest, Calif., Ford F-150 (Herbst-Smith), 1:57.99
19 Ryan Millen, 33, Huntington Beach, Calif. (New Zealand)(DOR–Tim Herbst, 55, Las Vegas), Ford F-150 (Herbst-Smith), 1:58.18
97 B.J. Baldwin, 39, Las Vegas, Toyota Tundra (ID), 1:58.43
23 Dan McMillin, 30, San Diego, Ford F-150 (Racer), 1:58.73
16 Cameron Steele, 50, San Clemente, Calif., Chevy Silverado (Geiser), 1:58.95
1 Carlos 'Apdaly' Lopez, 23, Tecate, Mexico, Chevy Rally Truck (builder-Geiser), 1:59.17
85Mike Lawrence, 30, Banning, Calif., Ford F-150 (Herbst-Smith), 1:59.30
31 Andy McMillin, 31, San Diego, Chevy Silverado (Mason), 2:00.40
70 Kevin Thompson, 45, Braunfels, Texas, Ford F- 150 (Herbst-Smith), 2:00.54
15 Billy Wilson, 33, Corpus Christi, Texas, Ford Raptor (Jimco), 2:00.79
50 Zak Langley, 43, Manhattan Beach, Calif., Ford F-150 (ESM), 2:01.41
*5L Armin Schwarz, 55, Austria (Germany) (Driver of Record–Clyde Stacy, 73, Bristol, Va.), Chevy Rally Truck (Geiser), 2:01.50
88 Mike Walser, 51, Comfort, Texas, Chevy Silverado (Mason), 2:01.57
4 Justin Matney, 33, Bristol, Tenn., Chevy Rally Truck (Geiser), 2:01.65
57 Mike Palmer, 56, Denver, Chevy Silverado (Palmer), 2:02.88
20 Robbie Pierce, 59, Santee, Calif., Ford Raptor (Jimco), 2:03.31
54 Christian Souapas, 22, Rancho Santa Fe, Calif.(DOR–Troy Herbst, 52, Las Vegas), Ford F-150 (Herbst-Smith), 2:03.89
62 Mike Cook, 37, Provo, Utah, Chevy Silverado (Mason), 2:04.68
86 Joe Bacal, 49, Anthem, Ariz., Dodge Ram1500 (Geiser), 2:06.75
*12L Gustavo Vildosola, 65, Mexicali, Mexico, Ford Raptor (ID), 2:08.21
61 Richard Armstrong, 50, Canada, Chevy Silverado (Brenthel), 2:11.12
*81L John Swift, Oxnard, Calif. (DOR–DavidWesthem, 58, Tahoe City, Calif.), Chevy C-1500 (Mac West), 2:11.47
10 Alan Ampudia, 27, Ensenada, Mexico, Ford Raptor (ID), 13:28.28
  *SCORE TT LEGEND (Unlimited Production Trucks, Drivers over 50 years old)–
Additional SCORE Trophy Truck race entries not qualifying:
26 Dave Taylor, 44, Page, Ariz./Steve Strobel, Clarks, Neb., Chevy Silverado (Geiser)
*37L Rolf Helland, 59, Morris, Ill./Jeff Mackiewicz, 50, Ottawa, Ill., Ford Raptor (Geiser)
40 Chris Miller, 44, Rancho Santa Fe, Calif./Jimmy Nuckles, 50, Brawley, Calif., Toyota Tundra (ID)
45 Gary Magness, 64, Denver/Devin Housh, 37, Desert Hot Springs, Calif., Ford F-150 (Custom)
66 Harry Hepler, 54, Lansing, Mich./Steve Purchase, 35, Lansing, Mich./Josh Chedester, 30, Lansing, Mich., Ford Raptor (Evans)
72 Aaron Ciliceo, 46, San Diego/Greg Adler, 50, Manhattan Beach, Calif./Abraham Lartundo, 39, San Diego, Toyota Tundra (Maniak)
*72L Rob Reinertson, 56, Woodside, Calif./Mike Salimbeni,  52, Lathrop, Calif., Ford F-150 (North American)