SCORE MEDIA CONTACT: Dominic Clark, dominiccnv@aol.com
June 7, 2015
Race to air on CBS Sports Network
RPM's Lopez blazes trail to overall, SCORE Trophy Truck victory,
C. Parkhouse captures Class 1 at 47th Bud Light SCORE Baja 500

THR Kawasaki's Eddy Jr, Morgan, Young top motorcycles, Robles Jr first quad, other class winners
include Connor, Hajas, Ampudia, Burman, Cesena, Navarro III, Broughton, Moss, Daniels, Diaz;
210 starters in Rd 3 of five-race 2015 SCORE World Desert Championship in Ensenada, Mexico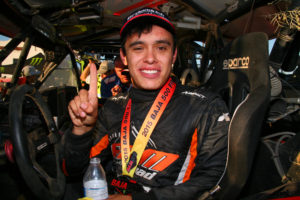 ENSENADA, Mexico—Racing with the discipline and patience of a much older and more experienced desert racer, 20-year old Carlos Lopez of Tecate, Mexico, blazed past a field that included the world's best desert racers to capture the overall and SCORE Trophy Truck victory Saturday at the 47th Bud Light SCORE Baja 500 desert race. Round three of the five-race 2015 SCORE World Desert Championship started and finished in Ensenada, Baja California, Mexico, the seaside port on the Pacific Ocean, 85 miles south of San Diego.
The start/finish line for the race was once again adjacent to the Riviera del Pacifico Cultural Center on Blvd. Costero in the heart of Ensenada.
After qualifying in the fifth starting position in the elapsed-time race, Lopez stayed the course against the heavyweights of the sports like Robby Gordon, Rob MacCachren, Gus Vildosola Jr, Bryce Menzies and fellow SCORE young gun Luke McMillin to take the lead three-fourths of the way through the grueling 510.58-mile race. Lopez powered his way to the finish line with a time of 8 hours, 48 minutes and 38 seconds, averaging 57.95 miles per hour in the No. 5 RPM Racing Chevy Rally Truck over the colorful course around the northern part of Mexico's majestic Baja California peninsula.
For the youthful Lopez, it was his first career SCORE race win as well as first in the featured SCORE Trophy Truck division for high-tech, 850-horsepower unlimited production trucks. He defeated a talented field of 210 starters, including 30 SCORE Trophy Trucks, from 26 U.S. States, and 10 countries competing in Pro and Sportsman classes for cars, trucks, UTVs, motorcycles and quads.
Lopez, a second-generation desert racer, drives for the powerful RPM Racing team, based in Bristol, Tenn., which has now won two SCORE races in a row following Eduardo Laguna's overall and SCORE Trophy Truck victory in April's inaugural Baja Sur 500 from Cabo San Lucas to Loreto. The duo entered the race second and third in the 2015 SCORE season point standings.
The victory also marked another milestone as BFGoodrich Tires, the official tire of SCORE for over three decades. BFGoodrich Tires celebrated its amazing 31st overall 4-wheel victory in 36 years of competing in the Bud Light SCORE Baja 500. The victory also represented the 84th overall win in SCORE Baja racing for prominent BFGoodrich Tires.
Following complete data tracking review of the vehicles, BFGoodrich Tires not only officially swept the podium but also were the tires of choice for all of the top 11 overall finishers in the race.Second overall and in SCORE Trophy Truck was Las Vegas' MacCachren, 50, who finished second, just 51 seconds behind Lopez in 8:49:29 in the No. 11 Rockstar Energy MacCachren Motorsports Ford F-150 and third overall and in SCORE Trophy Truck for the second straight year was Jesse Jones, 49, of Phoenix in 8:54:08 in the No. 76 Ford F-150.
With no time to enjoy his victory celebration, Lopez went immediately after the race to catch a plane in San Diego to fly to Austin, Texas to compete in the XGames Sunday where he is the defending champion in Robby Gordon's Stadium Super Trucks series.
When the race course officially closed on Sunday morning at 10:42 a.m., 136 of 210 starters (64.76 percent) completed the course within the 22-hour time limit to become official finishers. Both the start and finish line were located in the heart of Ensenada on Boulevard Costero adjacent to the historic Riviera del Pacifico Cultural Center.
The closing time on the course was delayed by nearly one hour as SCORE and local officials worked on the aftermath of an accident involving a race car within one-quarter mile of the start. Racer Arnoldo Gutierrez Jr of Mexicali, Mexico apparently lost full control of his vehicle negotiating a turn, sliding into two utility poles, causing minor injuries to several spectators.
BRABEC'S TEAM FIRST TO FINISH
With a lot of help from his friends Max Eddy Jr, Ian Young and Justin Morgan, Ricky Brabec, Oak Hills, Calif., riding on the factory-supported No. 1x THR Motorsports Monster Energy Kawasaki KX450F was the rider of record for the overall motorcycle and Unlimited motorcycle class winning team after being the eighth motorcycle off the starting line earlySaturday morning.
With a one-race excused absence rule in SCORE, Brabec still earned the season points as the defending SCORE Unlimited class champion saw his team when this race for the second straight year. With teammates Max Eddy Jr, Barstow, Calif., Ian Young, San Clemente, Calif. and Justin Morgan handling the riding, Brabec's team finished the race in 10:09:55, averaging 50.23. mph to win for the first time in three SCORE races this year.
Morgan was riding early in the race when he passed leader Justin Jones, Murrieta, Calif., co-rider for Colton Udall the rider of record for the No. 5x Ox Motorsports Honda CRF450X. Jones had been injured in an accident at race-mile 92. With the 5x motorcycle unable to continue the race, Jones was transported back to the United States with a possible broken pelvis.
SCORE TROPHY TRUCKS SMOOTH
The top nine overall finishers in the race were all SCORE Trophy Trucks for the second straight year as well as BFGoodrich Tires drivers. Following Lopez, MacCachren and Jones to the checkered flag were Gus Vildosola Jr, Mexicali, Mexico (No. 21 Ford Raptor), Jason Voss, Cupertino, Calif. (No. 35 Ford F-150), Mark Weyhrich, Troutdale, Ore. (No. 9 Ford F-150), Tim Herbst, Las Vegas/Larry Roeseler, Boulevard, Calif. (No. 19 Ford F-150), Steven Eugenio, Carlsbad, Calif./Armin Schwarz, Austria (No. 1 Chevy C-1500) and Troy Herbst, Las Vegas/Ryan Arciero, Foothill Ranch, Calif. (No. 91 Ford F-150). Just 28 total minutes separated first from ninth in the illustrious field.
CLASS 1 SUPERLATIVE
For the second straight year, son/father team of Cody Parkhouse/Brian Parkhouse, Long Beach, Calif., defeated a talented group of 19 starters to win the unlimited Class 1 for open-wheel desert race cars in their Chevy-powered Jimco driven on BFGoodrich Tires, finishing 10th overall in the grueling race in 9:32:32.
OVERALL QUAD
The fastest overall quad was the team led by Javier Robles Jr, Mexicali, Mexico on the No. 1a Honda TRX450R in a time of 10:53:27. His co-riders were Josh Row, El Cajon, Calif./Felipe Velez, San Felipe, Mexico.
LOPEZ COMMENTS
Following his stunning victory, the young lion roared, "We had a good day but at race mile 100 we lost our brakes and we lost 5 to 10 minutes. After that everything went pretty well and we regained the time we lost. This is the first 500-mile race that I've driven solo. The toughest part was the endurance. I'm very proud that the Mexicans appear to be dominating SCORE racing. When I was 10 years old it was my goal to someday win a SCORE Baja race. I really never thought it would happen this quickly, but RPM Racing has made this possible for me."
MULTI-CLASS WINS
Several racers with multiple class wins added to their winning career totals in the Bud Light SCORE Baja 500. Leading the way was Donald Moss, Sacramento, Calif. (Class 3, Ford Bronco) who won his class for the ninth time and fifth straight year. Other class winners who added to their legacy in this race include Wayne Matlock, El Cajon, Calif. (Class 19, Polaris RZR XP1000) who defeated a larger UTV field in his class of 23 starters to earn his fifth class win in this race as his other four were in quad classes. Picking up his fifth career win in this race in a motorcycle class, Japan's Eizaburo Karasawa was the second rider in Class 60 for rider of record Susumu Ishii.
THE UNBEATEN
With their class wins in the Bud Light SCORE Baja 500, remaining undefeated after their third win in the 2015 SCORE World Desert Championship were Larry Connor, Miamisburg, Ohio (Trophy Truck Spec, Chevy Silverado), Victor Cesena, Cabo San Lucas, Mexico (Class 5, VW Baja Bug) and Chad Broughton, Scotts Valley, Calif. (Class 3000, BajaLite-Chevy).
TWO-TIME WINNERS
Earning their second class wins of the year at the Bud Light SCORE Baja 500 were Marc Prince, Malibu, Calif. (Class 50, Honda CRF450X). Aaron Ampudia, Ensenada, Mexico (Class 1/2-1600, Alumi Craft-VW), Rafael Navarro III, Temecula, Calif., (SCORE Lites, Jimco-VW), Carlos Diaz, Mexicali, Mexico, (Class 7, Ford Ranger), John Gonzales, Edgewater, Md. (Stock Full, Ford Raptor), James Burman, Heber City, Utah (Class 8, Chevy Silverado), Kevin Daniels, Bishop, Calif., (SCORE Ironman, KTM 500XCW) and Juan Dominguez, Yuma, Ariz. (SPT Quad, Honda TRX450R).
FIRST TIMERS
Several racers won for the first time in 2015. Besides Lopez, Robles Jr and Parkhouse, other first timers included Peter Hajas, Wayzata, Minn. (Class 10, Jake'sFab-Chevy, , Jano Montoya, Winter Garden, Fla./Francisco Septien, Ensenada, Mexico, (Class 40, KTM 450XCW), and Salvador Carrillo, Woodland, Calif. (Class 5-1600, VW Baja Bug).
MAIN COURSE
The historic race featured a 510.58-mile course that ran in a clockwise direction going north out of the Ojos Negros area up through the Pine Forrest to and along the U.S. border west of Mexicali over the infamous La Rumorosa grade. The race route was another memorable example of all that Mexico's Baja California has to offer, including high-speed dirt trails, sandy, rocky and silty natural terrain, majestic Baja washes and canyons, stretches along the seashore with elevations from sea level to over 4,000 feet. The course is another jewel reflecting the stark and magnificent beauty of Baja California.
GRAN HISTORIA
SCORE is celebrating its 42nd year as the World's Foremost Desert Racing Organization in 2015 and this race is traditionally one of the most popular events on the SCORE schedule.
This year was the 47th anniversary of the Bud Light SCORE Baja 500, the original desert race produced by SCORE on July 26, 1974.
The Bud Light SCORE Baja 500 is one of the top motorsports events in the world. It was started originally in 1969 by the NORRA organization. Mickey Thompson and his SCORE International organization were asked by Mexican government to take over the event in 1974. Sal Fish ran and later owned and produced the Bud Light SCORE Baja 500 for 39 years until he sold SCORE to Roger Norman in December of 2012.
Ensenada has been the heart and soul of the Bud Light SCORE Baja 500. This year marked the 42nd time it started and 38th time it finished in Ensenada.
DAKAR CHALLENGE 2015
This year's Bud Light SCORE Baja 500 has been identified as a qualifying race for special entry packages into the 2016 Dakar Rally in South America. The winner in car and truck classes will come from SCORE Trophy Truck, Class 1 and Class 10 (all calculated with time adjustments). Complete regulations and other information on Dakar Challenge 2015 are available at http://score-international.com/dakar-challenge/. Following complete data tracking review of those competitors who entered the Dakar Challenge 2015, the winner was declared to be Steven Eugenio, Carlsbad, Calif., the reigning SCORE Trophy Truck season point champion who drives the No. 1 Galindo Motorsports Chevy C1500.
CBS SPORTS NETWORK COVERAGE
All races in the 2015 SCORE World Desert Championship series, along with the special SEMA SCORE Baja 1000 Experience and qualifying for the Bud Light SCORE Baja 1000 from Las Vegas Motor Speedway, will once again be aired in the USA and Canada on the CBS Sports Network. New for 2015, in addition to SCORE Trophy Truck coverage, the shows will also feature top action and highlights from many other classes of trucks, buggies, motorcycles, quads and UTVs – making sure that the most exciting footage and most compelling stories are now part of each race event broadcast.
Capping off the 2015 broadcast season, the Bud Light SCORE Baja 1000 broadcast on CBS Sports Network will be expanded to a full two-hour program – providing the most expansive television coverage of the "Main Event" of all desert races ever, allowing all the major class action to be showcased around the globe to the SCORE International fan base.
2015 CBS Sports Network Original Broadcast Schedule (subject to change, check local listings)
· Bud Light SCORE San Felipe 250 (first telecasts-Tuesday, March 17, 7 p.m. ET & 11 p.m. ET)
· Bud Light SCORE Baja Sur 500 (first telecast-Sunday, May 31, 9 p.m. ET; key repeat broadcast-Sunday, June 7, 9 p.m. ET) (Trailer — https://www.facebook.com/video.php?v=601704029970642)
· Bud Light SCORE Baja 500 (first telecast-Sunday, July 26, 9 p.m. ET; key repeat broadcast-Sunday, August 2, 9 p.m. ET)
· SCORE Imperial Valley 250 (first telecast-Sunday, November 15, 9 p.m. ET; key repeat broadcast-Sunday, November 29, 9 p.m. ET)
· Bud Light SCORE Baja 1000 Qualifying @SEMA SCORE Baja 1000 Experience (first telecast-Sunday, January 10, 9 p.m. ET)
· Bud Light SCORE Baja 1000 (two-hour special) (first telecast-Sunday, January 17, 9 p.m. ET)
CBS Sports Network is available across the country through local cable, video and telco providers and via satellite on DirecTV Channel 221 and Dish Network Channel 158. For more information, including a full programming schedule and how to get CBS Sports Network, go to www.cbssportsnetwork.com.
SCOREscope
In its 42nd year as the world's foremost desert racing organization in 2015, the five-race 2015 SCORE World Desert Championship series includes four special events in Baja California, Mexico, and one in the United States. Here is the 2015 SCORE World Desert Championship schedule:
· 29th Bud Light SCORE San Felipe 250, held Jan. 22-25, San Felipe, Mexico
· Inaugural Bud Light SCORE Baja Sur 500, held April 15-19, Cabo San Lucas to Loreto, Mexico
· 47th Bud Light SCORE Baja 500, June 4-7, Ensenada Mexico
· 3rd SCORE Imperial Valley 250, Sept. 24-27, Coyne Powersports Motorplex-Plaster City, Calif.
· 48th Bud Light SCORE Baja 1000, Nov.18-21, Ensenada, Mexico
SCORE JOURNAL
Issue No. 5 of the SCORE Journal, the new monthly on-line digital magazine of SCORE International and the five-race SCORE World Desert Championship, is live on the SCORE website at www.SCORE-International.com and is available through SCORE social media channels as well as a direct link at http://scorejournal.digital/
The new digital magazine, which includes numerous attached video segments, is a major element in the media expansion that SCORE is implementing for 2015 which includes its most aggressive national and international television packages, four new online video series, each with 26 episodes and a new consumer based SCORE website.
SCORE SPONSORS…
SCORE corporate offices are located in Reno, Nev. and the SCORE Tech Shop is in El Cajon, Calif., just east of San Diego.
Official Sponsors: Bud Light-Official Beer/Official Race Sponsor, Monster Energy-Official Energy Drink, BFGoodrich Tires-Official Tire, Rigid Industries LED Lighting-Official Lights, King Shocks-Official Shock Absorber, Polaris-Official UTV, Vision Wheel – Official Wheel, Axial R/C-Official R/C Vehicle, CBS Sports Network-Official Television Partner, Coca-Cola-Official Soft Drink, Coyne Powersports-Official Powersports Supplier,Wide Open Excursions- Official Arrive and Drive Company, Crystal Bay Casino-Official Casino.
Associate Sponsors: All Road Satellite, Symons Ambulance Company, Aero Calafia, Tessco.
Additional SCORE Partners: Proturismo Ensenada, Visit Baja California Sur, Baja California Secretary of Tourism, Baja California Sur State Government, Mexicali Ayuntamineto, COTUCO Mexicali/San Felipe, Cruz Roja Mexicana, Corporate Helicopters, Instant Mexico Auto Insurance, GoPro, PCI Race Radios, McKenzie's Performance Products, Advanced Color Graphics.
For more information, visit the official website of the SCORE World Desert Championship at www.SCORE-International.com.
Bud Light SCORE Baja 500
Ensenada, Baja California Mexico
All-Time Overall 4wheel & 2wheel champions (1969 through 2014)
Year—DRIVERS/RIDERS, VEHICLE
1969—Bud Ekins/Guy Jones, Baja Boot-Olds
Doug Douglas/Jim McClurg, Ducati
1970—Parnelli Jones, Ford
Bill Silverthorn/Gene Fetty, Husqvarna
1971—Bobby Ferro, Funco-VW
Malcolm Smith/J.N. Roberts, Husqvarna
1972—Bobby Ferro, Sandmaster-VW
Gene Fetty/Bill Silverthorn, Honda
1973—Parnelli Jones, Ford
Howard Utsey/Mickey Quade, Husqvarna
1974—Bobby Ferro, Sandmaster-VW
Mitch Mayes/A.C. Bakken, Husqvarna
1975—Ivan Stewart, Funco-VW
Larry Roeseler/Bruce Ogilvie, Harley-Davidson
1976—Bobby Ferro/Ivan Stewart, Funco-VW
Larry Roeseler/A.C. Bakken, Husqvarna
1977—Ivan Stewart, Chenowth-VW
Larry Roeseler/Jack Johnson, Husqvarna
1978—Bud Feldkamp/Malcolm Smith, Funco-VW
Brent Wallingsford/Scot Harden, Husqvarna
1979—Malcolm Smith/Bud Feldkamp, Funco-VW
Jack Johnson, Husqvarna
1980—Bob Gordon, Chenowth-Chevy
Bruce Ogilvie/Chuck Miller, Yamaha
1981—Malcolm Smith/Bill Newbury, Chenowth-Chevy
Larry Roeseler/Bruce Ogilvie, Yamaha
1982—Larry Ragland, Funco-VW
Larry Roeseler/Chuck Miller, Yamaha
1983—Corky & Scott McMillin, Chenowth-VW
Dan Ashcraft, Husqvarna
1984—Larry Ragland, Chaparral-VW
Dan Smith/Dan Ashcraft, Husqvarna
1985—Ron Gardner/Bud Feldkamp, Funco-VW
Kurt Pfeiffer/Scot Harden, Husqvarna
1986—Corky & Scott McMillin, Chenowth-Porsche
Garth Sweetland/Scot Harden, Husqvarna
1987—Bob Gordon/Tim Crabtree, Chenowth-Porsche
Larry Roeseler/Ted Hunnicutt Jr, Kawasaki
1988—Mark McMillin, Chenowth-Porsche
Dan Ashcraft/Kurt Pfeiffer, Yamaha
1989—Robby Gordon, Ford
(no motorcycles)
1990—Robby Gordon, Ford
Larry Roeseler/Danny LaPorte, Kawasaki
1991—Ivan Stewart, Toyota
Garth Sweetland/Paul Krause, Kawasaki
1992—Ivan Stewart, Toyota
Larry Roeseler/Ted Hunnicutt Jr/Paul Krause, Kawasaki
1993—Ivan Stewart, Toyota
Danny Hamel/Larry Roeseler/Ted Hunnicutt Jr, Kawasaki
1994—Ivan Stewart, Toyota (SCORE Trophy Truck)
Dave Ashley/Dan Smith, Ford
Paul Krause/Ted Hunnicutt Jr, Kawasaki
1995—Curt LeDuc, Jeep (SCORE Trophy Truck)
Mike Julson/Bob Lofton, Jimco-VW
Paul Krause/Craig Smith, Kawasaki
1996—Rob MacCachren (SCORE Trophy Truck)
Troy Herbst, Smithbuilt, Smithbuilt-Porsche
Paul Krause/Ty Davis, Kawasaki
1997—Ivan Stewart, Toyota (SCORE Trophy Truck)
Mark McMillin, Jimco-Porsche
Johnny Campbell/Bruce Ogilvie, Honda
1998—Ivan Stewart, Toyota
Johnny Campbell/Bruce Ogilvie, Honda
1999—Ivan Stewart, Toyota
Jonah Street/Torsten Borstrom, Honda
2000—Larry Ragland, Chevy
Jonah Street/Steve Hengeveld, Honda
2001—Mark McMillin, Jimco-Chevy
Steve Hengeveld/Johnny Campbell, Honda
2002—Troy Herbst/Larry Roeseler, Smithbuilt-Ford
Steve Hengeveld/Johnny Campbell, Honda
2003—Troy Herbst/Larry Roeseler, Smithbuilt-Ford
Steve Hengeveld/Johnny Campbell, Honda
2004—Alan Pflueger, Chevy
Steve Hengeveld/Johnny Campbell, Honda
2005—Robby Gordon, Chevy
Mike Childress/Mouse McCoy, Honda
2006—Brian Collins/Larry Ragland, Chevy
Robby Bell/Kendall Norman, Honda
2007—Larry Ragland/Brian Collins, Chevy
Robby Bell/Kendall Norman/Steve Hengeveld, Honda
2008—B.J. Baldwin, Chevy
Robby Bell/Kendall Norman, Honda
2009—Harley Letner/Kory Halopoff, Tatum-Chevy
Bill Boyer/Donnie De Arman/Nicholas Blais/Rudy Iribe, Honda
2010—Andy McMillin/Scott McMillin, Ford
Kendall Norman/Quinn Cody, Honda
2011—Bryce Menzies, Ford
Kendall Norman/Quinn Cody, Honda
2012—Bryce Menzies, Ford
Robby Bell/David Pearson/Steve Hengeveld, Kawasaki
2013—Robby Gordon, Chevy
Timmy Weigand/Colton Udall/David Kamo, Honda
2014—Bryce Menzies, Ford
Ricky Brabec/David Pearson/Max Eddy Jr, Kawasaki
2015—Carlos Lopez, Chevy
(Ricky Brabec)/ Max Eddy Jr/Ian Young/Justin Morgan, Kawasaki
Bud Light SCORE Baja 500 Overall Champions
Racers
Cars & Trucks
11
*Larry Roeseler
10
Ivan Stewart
5
Larry Ragland
4
Bobby Ferro
Robby Gordon
**Malcolm Smith
3
Bud Feldkamp
Troy Herbst
Mark McMillin
Scott McMillin
Bryce Menzies
2
Brian Collins
Bob Gordon
Parnelli Jones
Corky McMillin
**Dan Smith
1
Dave Ashley
B.J. Baldwin
Bud Ekins
Ron Gardner
Kory Halopoff
Guy Jones
Mike Julson
Harley Letner
Bob Lofton
Carlos Lopez
Curt LeDuc
Rob MacCachren
Andy McMillin
Alan Pflueger
*9 on motorcycle
**1 on motorcycle
Motorcycles
7
Steve Hengeveld
6
Johnny Campbell
5
Paul Krause
Bruce Ogilvie
Johnny Campbell
Kendall Norman
4
Robby Bell
Ted Hunnicutt Jr
3
Scot Harden
Jonah Street
2
Dan Ashcraft
A.C. Bakken
Ricky Brabec
Quinn Cody
Max Eddy Jr
Gene Fetty
Jack Johnson
Chuck Miller
David Pearson
Kurt Pfeiffer
Bill Silverthorn
Craig Smith
1
Torsten Borstrom
Mike Childress
Cameron Corfman
Ty Davis
Doug Douglas
Danny Hamel
David Kamo
Jim McClurg
Danny LaPorte
Mitch Mayes
Mouse McCoy
Justin Morgan
Mickey Quade
J.N. Roberts
Garth Sweetland
Colton Udall
Howard Utsey
Brent Wallingsford
Tim Weigand
Ian Young
Manufacturers
Overall 4wheel Vehicle Winners
Trucks/SUVs
10
Ford
8
Chevy
7
Toyota
1
Jeep
Cars
8
Chenowth
7
Funco
3
Jimco
2
Sandmaster
Smithbuilt
1
Baja Boot
Chaparral
Tatum
Overall Engine Winners
Cars & Trucks
13
Volkswagen
12
Ford
11
Chevy
10
Ford
7
Toyota
5
Porsche
1
Jeep
Oldsmobile
Motorcycles
17
Honda
12
Husqvarna
11
Kawasaki
4
Yamaha
1
Beta
Ducati
Harley-Davidson
Tires
4wheel vehicles
(missing 4 years)
31
BFGoodrich Tires
5
Western Auto Tires
2
Firestone Tires
Goodyear Tires
Yokohama Tires
1
Toyo Tires