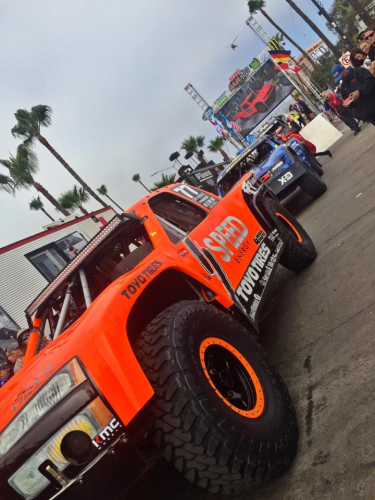 SCORE #BAJA500 LIVE STREAM UPDATE

12:32 PM Pacific – Less than 50 miles into today's ultra-competitive #Baja500, No. 1 qualifier Robby Gordon is 11th place, according to Live Tracking information, while Justin Matney is currently in the lead (driving a 4×4 he debuted at last year's SCORE Imperial Valley 250). Still very early in the Trophy Truck race, Matney was just ahead of 3x #BAJA500 Champion Bryce Menzies, this year's no. 2 Trophy Truck qualifier, and defending overall SCORE Champion, last year's Trophy Truck and Baja 500 Champion, and RPM Off Road teammate Apdaly Lopez . . . Meanwhile, Class 1 has also started, while the Motos are closing in on hour eight. Trophy Truck Spec is starting now. Live.
Live Coverage and Live Tracking continues until the last vehicle in has finished the race, one way or the other. Keep updated at http://Score-International.com. . . And, yes, there is an App for that.
This Tweet is deserving of a big #BAJA500 ShoutOut to the fans at Horsepower Ranch. That's SCORE-TV's live race coverage they're glued to, as are thousands and thousands of viewers every minute since coverage started at 5:30 this morning.
At #horsepowerranch waching the #baja500 live from https://t.co/Cx04aTIoRG GOOD LUCK TO EVERYONE !! pic.twitter.com/rTBJ5vhOM1

— Horsepower Ranch (@HPRBaja) June 4, 2016