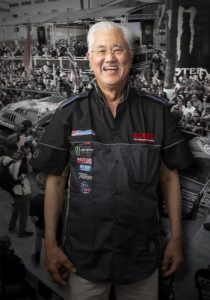 September 22, 2021
SCORE Mourns Passing of Oscar Kawanishi, Ensenada tourism official and friend of SCORE
It is truly with a heavy heart that SCORE mourns the recent passing of Ensenada tourism official, public servant and long-time friend of SCORE, Oscar Kawanishi.
With a storied and legendary career in tourism and business in Ensenada, Kawanishi was 71 years old when he passed from heart failure while in an Tijuana Hospital last Thursday morning. Kawanishi had already spent several days in the hospital undergoing testing of various types, attempting to identify and treat his symptoms.
"Oscar was one of the greatest friends and supporters in the Ensenada tourism sector that SCORE ever had during much of its 48-year-history," lamented Jose Grijalva, SCORE's Race Director and President. "He was an extremely personable individual with a fierce passion for tourism, an easy-going nature and effervescent friendly smile. His work in the tourism community was truly unparalleled."
"For three decades Oscar would stop by SCORE registration at least to check in on the SCORE staff, encourage us and constantly inquire of us if we needed anything at all and then check back with us latter to see if we needed anything else. He was a class act in every way and always a genuinely nice person."
"He was also a principal participant in most opening ceremonies prior to the start of SCORE races. The entire SCORE family will miss him dearly and our deepest sympathies and prayers go out to his family and friends. Oscar's never-ending smile, helpful attitude and words of encouragement will long be remembered."
Oscar's son Eduardo Kawanishi has also worked as a valuable asset for SCORE in various capacities for several years.
Kawanishi had a degree in Business Administration from the Instituto Tecnológico Autónomo de México in Mexico City.
He was general director of Proturismo de Ensenada from March 2009 to February 2017. He was also Public Relations manager of the paramunicipal between 2006 and 2009.
In 2006 he was commercial deputy director of the Ensenada State Public Services Commission (Cespe).
Mr. Kawanishi is survived by his wife Silvia Mitzuko and three children: Oscar Jr, Eduardo and Adrian.